1.
Re. Back Pay Request
Dear Sir/Madam, I am [NAME], former [DESIGNATION] from the [COMPANY]. I am writing this letter to request my back pay as an outstanding amount of $ [X] is remaining that I owe to the company. As I have been terminated from the company, I want you to clear my monetary affairs as soon as possible.
I started working in this company from [DATE] as a [….]. I have always been an honest, dedicated, and hard-working employee. I never tried to escape the hard lock of the company and worked from dawn to dusk for the accomplishments of assignments. I could not stay punctual to the office because of transportation issues and the illness of my mother.
Although I was given two warnings, I could not do much to help this. Therefore, I was terminated from the company on [DATE]. Hence, I understand this as wrongful termination.
According to the Fair Labor Standard Act (FLSA), an employee cannot be terminated on such grounds of leave. This letter purports to release an amount of $ [X] for the extra time work I have done. Moreover, I would like you to approve my one-month free medical insurance that you are liable to do on the account of my wrongful and instant termination.
In case of not releasing the outstanding amount till [DATE], I would be compelled to escalate this matter to the Labor Court of [STATE]. If you have anything to ask, contact me on [PHONE] or write to me at [EMAIL]. Thanks.
Regards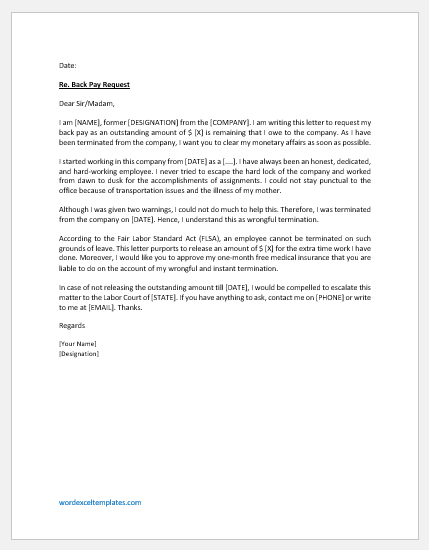 File: Word (.docx) 2007+ and iPad
Size 18 KB
2.
Re. Salary Back Pay Request
Dear Sir,
This letter has been drafted to claim my salary back pay on various grounds. In this letter, I would dissimilate the points that make me eligible to get salary back pay. In case of non-compliance, I will have to take the matter to higher authorities or even to the legal bodies of work.
Sir, my name is [NAME], and I have been working in your company as a […] since 20XX. I was appointed as a […] by the HRM with the promise that I will be promoted to the rank of […] in case of serving at my best and showcasing an outclass performance.
I worked for days and nights to improve my communication skills and learned other requisites like technical business management. I completed a period of [X] to get ample experience to get promoted. I was reported at rank-1 in the employees' performance appraisals of [month-year]. Later, I was told to continue serving as […] as there is no vacant position for me to get promoted.
On [DATE], a position of […] was vacant on the resignation of Mr./Ms. [NAME]. I was the most deserving for the seat of promotion as I completed [X] years of working in the same field and I possess most senior position after […]. But I was passed over and not promoted. I want you to pay an amount of [X] for my extra charge and the additional amount of work I have been doing in the aspiration and anticipation of getting promoted.
In case of not paying my claimed dues, I will be compelled to get to the Labor Court of Law. you can contact me on [PHONE] or write to [EMAIL]. Thank you.
Regards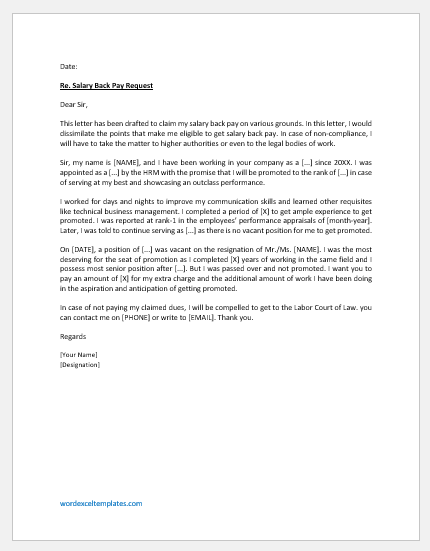 File: Word (.docx) 2007+ and iPad
Size 18 KB