In an authorization letter, one party approves the other party to take legal actions on behalf of the other party. In this letter, the first party assigning the responsibility to the other party is known as the principal and the other party is known as an agent.
Why this letter is drafted?
It is very risky to allow someone to act on your behalf. You often feel apprehensive about approving someone for this. However, there are still some situations that necessitate for you to write the authorization letter. When you are unable to take several actions because of your inability, you can allow someone else to take those actions on your behalf. For instance, if you are out of the country and you need a birth certificate that has to be issued by you in your native land and you can't travel instantly due to COVID or any other reason, you can ask someone else to do it for you.
Who should be written the authorization letter?
This letter is usually sent to those people who are given consent to go and collect the birth form. However, in some cases, the authorities who have to issue the certificate also see the permission letter and confirm that your consent is involved in this matter. In such a situation, a person often writes one letter and sends a copy of the letter to each concerned office.
What to include in it?
A person should ensure that he does not forget to mention the details that are an important part of the letter. Without these details, the approval can go wrong. Below are some components of this letter:
Give details of the third party:
When you are approving someone to take action from your side in your absence, you should make sure that you know that person well. If you are authorizing someone you know well, you must come up with the descriptions of the person so that there remains no confusion. Mention the name, address, and complete contact details of the third party.
Mention the authority you are giving:
An approval letter always gives limited authority to a third party. For instance, when you are writing the permission letter for a birth document, you must authorize the recipient to take action only to collect that form and not use it for any personal purpose. Remember that if you don't mention this, you can get yourself into hot water.
Mention what the authorized person cannot do:
If you are afraid that the third party might use your document of birth proof to take any decision on your behalf, you can restrict it from doing that by mentioning what the other party is not allowed to do with this.
Make a request:
To make sure that your consent is given importance, request the reader and ask him to consider your consent as a confirmation and allow the said party to act on your behalf.
Sample authorization letter to claim birthday certificate:
Date:
To:
Name of the recipient:
Contact details:
Address:
From:
Name of the sender:
Contact details
Address:
Subject: To Whom It May Concern
Dear Recipient,
I, (mention the name of the first party), hereby authorize (mention the name of the third party) to claim and obtain a birth certificate on my behalf. I am required to authorize him because I am unable to come myself and receive this certificate.
Mr. ABC is allowed to execute all those activities that are required to be carried out to obtain a birth certificate. He will present his own identity card and personal information at every step. I understand that Mr. ABC should not be held responsible if my birth certificate gets damaged, stolen, or lost.
Mr. ABC is only allowed to collect the certificate from concerned authorities and he is not allowed to use it for any personal motive. Moreover, he is also not allowed to take any decision on my behalf without my consent. Please accept this permission letter as written consent from my side.
Regards,
Signatures of the sender.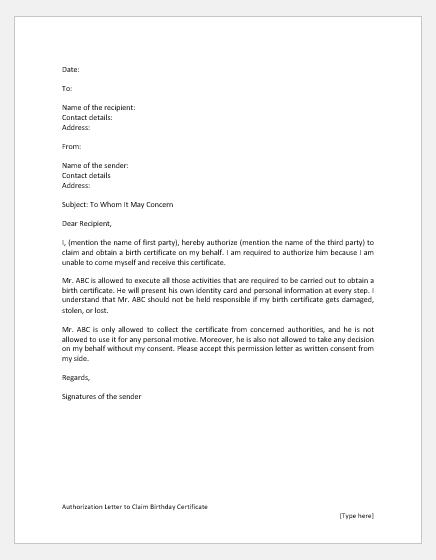 File: Word (.docx)
Size 23 KB
See also: