Medical representatives are responsible for conducting the sales of medical-related items. They are usually associated with a pharmaceutical company and sell the products of that company. Every pharmaceutical company needs representatives who can work for that company to boost its sales and make it progress in the market. Therefore, whenever there is a vacancy, the company welcomes different candidates to apply.
What is an appointment letter for medical representatives?
When a company finds a candidate to be suitable for the post of medical representative, it can decide to hire it. In that situation, the company writes the appointment letter to that person. The offer letter is usually sent to only those people who show their willingness to work in that company in the post of medical representative. They usually show their willingness by sending a resume for applying for medical representative.
Why is it important to write the appointment letter to the medical representative?
Appointment letters or offer letters are very important in the situation when a person is to be notified that he has been recruited for a job position he applied for. This is an important part of the entire process of recruitment. A company cannot avoid using the appointment letter whenever it has to inform someone about its selection.
When a company writes an appointment letter to someone who applied for the vacancy of medical representative, it breaks news to that candidate who must be waiting for the company's decision as to who it chooses to work on the post of medical representative.
The person who has applied for the post of medical representative can be informed about this decision via phone call or email. However, it is essential to bring the offer into writing. Written documents are usually more valuable and they hold more importance. Therefore, appointment letters are regarded as the main part that can never be overlooked.
Tips for writing an appointment letter:
When you send an offer letter to the medical representative, make sure that you provide all the details clearly
The job responsibilities of the person being offered a job should be specified in the appointment letter so that the person being recruited cannot refuse to fulfill any responsibility after joining the company
Mention all the terms and conditions that will be enforced.
Sample Letter
Date:
Name of the recipient:
Complete address of the recipient
Subject: Appointment letter for the medical representative
Dear (use the second name with the salutation),
This letter is being written to inform you that we have selected you to work in our pharmaceutical company ABC for the post of medical representative.
As a medical representative your job responsibilities will be following:
Building and maintaining relationships with the customers of the company.
Making progress reports of the sales conducted in a particular time frame.
Corresponding with customers and answering their queries via email, letters, phone calls, etc.
Coming up with new and innovative ideas to boost the sales of the company.
As a medical representative, the salary and benefits that will be rendered by you are following:
Your basic salary will be 1500$ per month.
Your working hours each week will be 56. If you want to work for more hours, you will be paid an additional salary.
The benefits and compensation that will be offered to you as a medical representative are (make a list of benefits and compensation details).
Terms and conditions:
After joining the company, you will be on a probation period starting 8 months. After that time, whether you will be appointed as a permanent employee in the company or not will be decided based on your performance
You will be required to notify the company whenever you decide to leave.
You are requested to inform us as to your decision regarding accepting the offer letter. In case you accept your offer letter, kindly send us this letter back with your signatures. We welcome you to our pharmaceutical company and wish you the best of luck in the future.
Regards,
Name of the sender
Signatures of the sender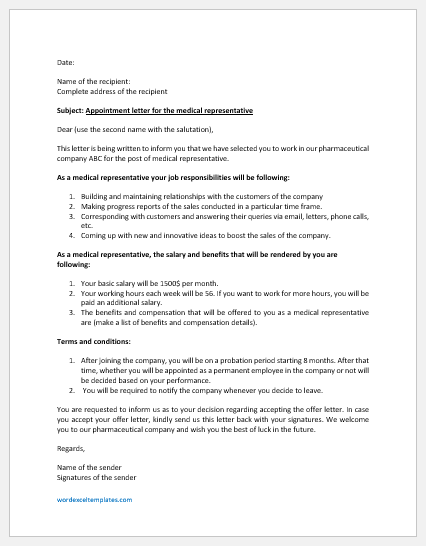 File: Word (.docx) 2007+ and iPad
Size 21 Kb
Download
---