Application for being sick is used when you are sick and you have to miss a day or more from work. The purpose of the application is to make the employer know about your sickness.
The absence of an employee from work can cause serious inconvenience to the company. No employer likes the absenteeism in the organization. Therefore, every employee deploys a specific procedure for the employees through which they can get a day or more off from work.
The employee is also required to abide by the rules and regulations of the company. Generally, most of the companies demand their employees to inform them about their leave through a letter, an email or a phone call.
Even if your boss does not require you to notify him of your absence, it is always a good idea from the professional point of view to inform him as soon as possible.
Know about the policies of the company regarding sick leave:
Before you write an application for being sick, you should get all the information about the policies of the company. You will be able to write the application by taking all those procedures into consideration.
For example, if your company requires you to send your doctor's note regarding your sickness, you should attach it with the application so that the employee can accept it without having any questions in his mind
Some companies accept the sick leave only when it is supported by evidence. The evidence includes a medical certificate and some other evidence that can be accepted by the administration. It is required by the employee to provide the evidence in a reasonable time.
Moreover, you should know about the number of leaves you are allowed to get each year. If you are exceeding that number, you will have to take additional steps in order to get your leave application accepted.
What should be included in the application for being sick?
The application should include the following details:
The contact information of the applicant
Name and other details of the applicant
The subject of the application
A proper salutation
Reason for being absent
Details of sickness
Mentioning the supporting documents attached with the application
Date of absence
Signatures of the applicant
Although the application for being sick requires you to provide the details regarding your sickness, it is important to stay concise while writing since it is a formal document.
It is not important to write the details such as symptoms of sickness, the number of times you visited the doctor, the name of the doctor, medicine you have been prescribed and a lot more. Include the details that your employer may be interested in.
Tips to write the application for being sick:
The application should be written in a professional tone.
Give a proper subject to your application so that your employer can understand what you have written for
Before sending your application, proofread it well for any spellings or grammatical mistake
Keep your message clear from all ambiguities
Sample Applications
Sick leave for 1 day
Dear Ms. Mariah,
I am writing to inform you that I will be unable to come to work today [date & day] owing to sick health. I have a high fever since last night. I have taken medicine and am resting. I hope to be back at work tomorrow.
Please mark my absence as sick leave. Thank you for your cooperation.
Regards,
[Employee name]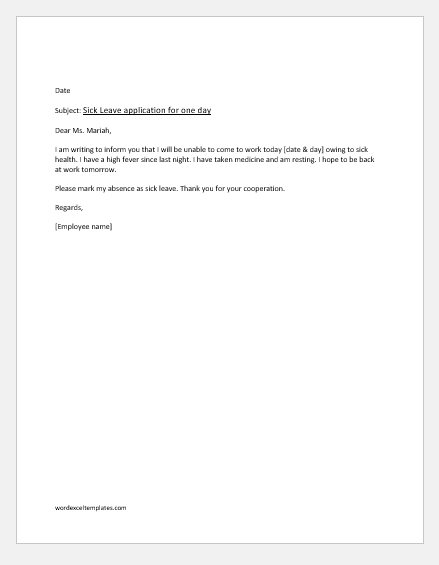 Sick leave for 2-3 days
Dear Mr. Mark,
This is to inform you that I have unfortunately caught flu and severe chest congestion. I was unable to come to work today and will take at least two more days to recover my health.
Even if I manage to come to work, I will be a biohazard for other employees. Kindly give me 3 days medical leave.
Look forward to seeing you on [date and day]
Regards,
Ms. Hanna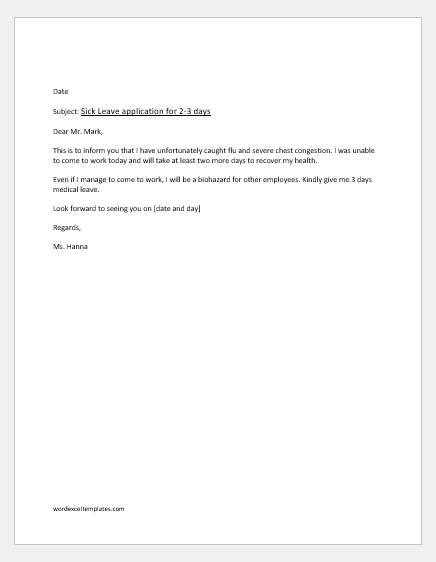 Sick leave for a week
Dear Mr. Watson,
I am writing to request sick leave for one week. I have severe pain in my left leg and my physician has advised me bed rest for one week along with physiotherapy.
I hope to be back next week [date and day]. Attached within this email is my doctor's prescription.
Looking forward to your cooperation.
Sincerely,
Randy Meyers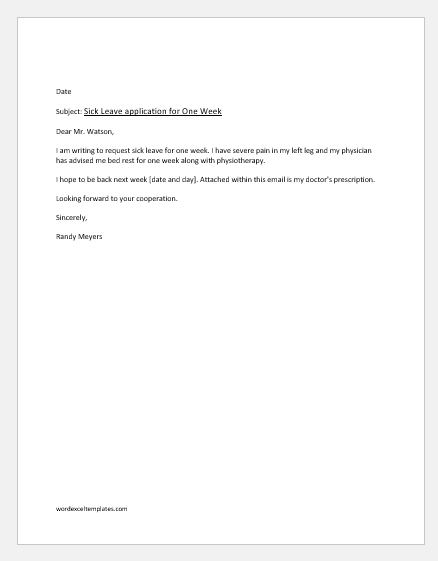 Sick leaves for a month
Dear Mr. Alden,
I am writing to inform you that yesterday I slipped into the bathroom and since then was in terrible pain. An X-ray report confirmed that my hip bone is fractured, and the doctor has prescribed me complete best rest for one month along with some painkillers.
Kindly grant me one month's sick leave. In case of any work-related queries, I shall be available via email and mobile phone.
Look forward to your support.
Regards,
Sarah Madison