What is a notification letter?
A notification letter gives some important information to the recipient. Notification is the act of conveying some important information to someone in a written form. Notification letter can be issued when giving important information to the supplier. It is used when:
Informing the supplier about the product change.
Changing the company's regulations and policies.
Informing about the death of a board member or any personnel of the company.
Notification Letter to Supplier for Price Negotiation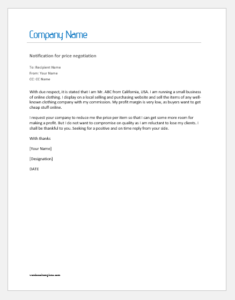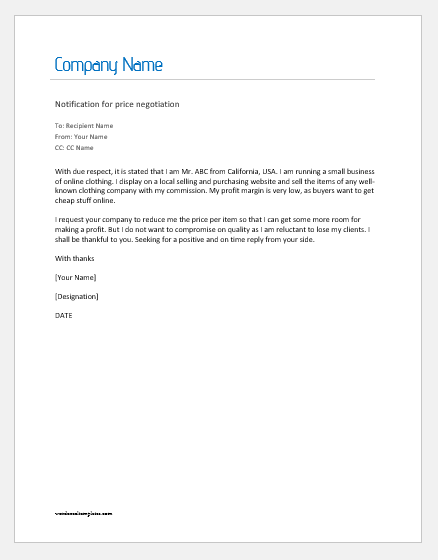 With due respect, it is stated that I am Mr. ABC from California, USA. I am running a small business of online clothing. I display on a local selling and purchasing website and sell the items of any well-known clothing company with my commission. My profit margin is very low, as buyers want to get cheap stuff online.
I request your company to reduce me the price per item so that I can get some more room for making a profit. But I do not want to compromise on quality as I am reluctant to lose my clients. I shall be thankful to you. Seeking for a positive and on time reply from your side.
---
Notification Letter to Supplier for Late Delivery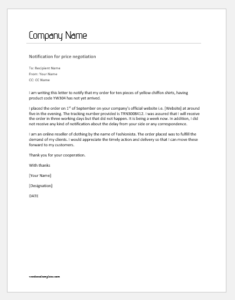 I am writing this letter to notify that my order for ten pieces of yellow chiffon shirts, having product code YW304 has not yet arrived.
I placed the order on 1st of September on your company's official website i.e. [Website] at around five in the evening. The tracking number provided is TRN3008412. I was assured that I will receive the order in three working days but that did not happen. It is being a week now. In addition, I did not receive any kind of notification about the delay from your side or any correspondence.
I am an online reseller of clothing by the name of Fashionista. The order placed was to fulfill the demand of my clients. I would appreciate the timely action and delivery so that I can move these forward to my customers.
Thank you for your cooperation.
Notification Letter to Supplier for Supply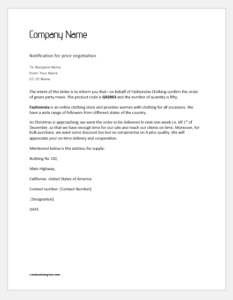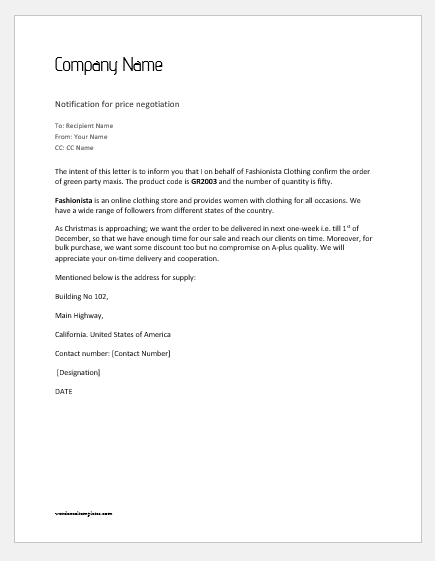 The intent of this letter is to inform you that I on behalf of Fashionista Clothing confirm the order of green party maxis. The product code is GR2003 and the number of quantity is fifty.
Fashionista is an online clothing store and provides women with clothing for all occasions. We have a wide range of followers from different states of the country.
As Christmas is approaching; we want the order to be delivered in next one-week i.e. till 1st of December, so that we have enough time for our sale and reach our clients on time. Moreover, for bulk purchase, we want some discount too but no compromise on A-plus quality. We will appreciate your on-time delivery and cooperation.
Mentioned below is the address for supply:
Building No 102,
Main Highway,
California. United States of America
Contact number: [Contact Number]
Notification Letter to Supplier for Late Payment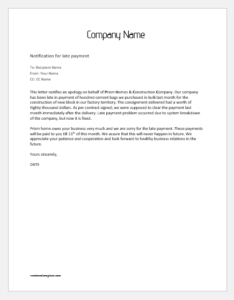 This letter notifies an apology on behalf of Prism Homes & Construction Company. Our company has been late in payment of a hundred cement bags we purchased in bulk last month for the construction of a new block in our factory territory. The consignment delivered had a worth of Eighty thousand dollars. As per contract signed; we were supposed to clear the payment last month immediately after the delivery. Late payment problem occurred due to system breakdown of the company, but now it is fixed.
Prism home owes your business very much and we are sorry for the late payment. These payments will be paid to you till 15th of this month. We assure that this will never happen in future. We appreciate your patience and cooperation and look forward to healthy business relations in the future.
Yours sincere
Notification Letter to Supplier for Quotation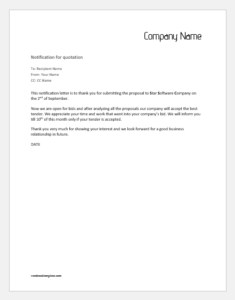 This notification letter is to thank you for submitting the proposal to Star Software Company on the 2nd of September.
Now we are open for bids and after analyzing all the proposals our company will accept the best tender. We appreciate your time and work that went into your company's bid. We will inform you till 10th of this month only if your tender is accepted.
Thank you very much for showing your interest and we look forward to a good business relationship in the future.
---
Notification Letter to Supplier for Poor Performance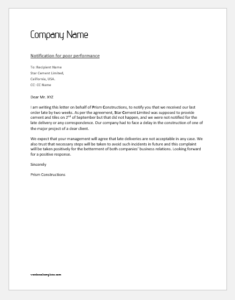 To,
Star Cement Limited,
California, USA.
Dear Mr. XYZ
I am writing this letter on behalf of Prism Constructions, to notify you that we received our last order late by two weeks. As per the agreement, Star Cement Limited was supposed to provide cement and tiles on 2nd of September but that did not happen, and we were not notified for the late delivery or any correspondence. Our company had to face a delay in the construction of one of the major project of a dear client.
We expect that your management will agree that late deliveries are not acceptable in any case. We also trust that necessary steps will be taken to avoid such incidents in future and this complaint will be taken positively for the betterment of both companies' business relations. Looking forward to a positive response.
Sincerely
Prism Constructions
Notification Letter to Supplier for Poor Quality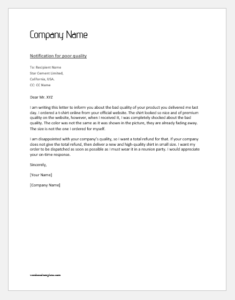 I am writing this letter to inform you about the bad quality of your product you delivered me last day. I ordered a t-shirt online from your official website. The shirt looked so nice and of premium quality on the website, however, when I received it, I was completely shocked by the bad quality. The color was not the same as it was shown in the picture, they are already fading away. The size is not the one I ordered for myself.
I am disappointed with your company's quality, so I want a total refund for that. If your company does not give the total refund, then deliver a new and high-quality shirt in small size. I want my order to be dispatched as soon as possible as I must wear it for a reunion party. I would appreciate your on-time response.
---
Notification Letter to Supplier for Defective Product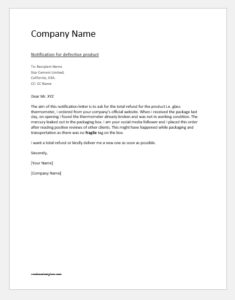 The aim of this notification letter is to ask for the total refund for the product i.e. glass thermometer, I ordered from your company's official website. When I received the package last day, on opening I found the thermometer already broken and was not in working condition. The mercury leaked out in the packaging box.
I am your social media follower and I placed this order after reading positive reviews of other clients. This might have happened while packaging and transportation as there was no fragile tag on the box.
I want a total refund or kindly deliver me a new one as soon as possible.
---
Notification Letter to Supplier for not Responding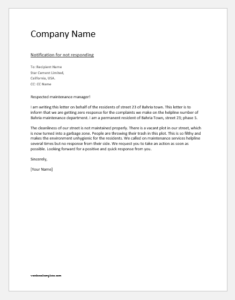 Respected maintenance manager!
I am writing this letter on behalf of the residents of street 23 of Bahria town. This letter is to inform that we are getting zero response to the complaints we make on the helpline number of Bahria maintenance department. I am a permanent resident of Bahria Town, street 23; phase 5.
The cleanliness of our street is not maintained properly. There is a vacant plot in our street, which is now turned into a garbage zone. People are throwing their trash in this plot. This is so filthy and makes the environment unhygienic for the residents. We called on maintenance services helpline several times but no response from their side. We request you to take an action as soon as possible. Looking forward to a positive and quick response from you.
---
Notification Letter to Supplier for Payment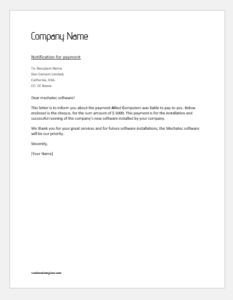 Dear ABC software!
This letter is to inform you about the payment Allied Computers was liable to pay to you. Below enclosed is the cheque, for the sum amount of $ 5000. This payment is for the installation and successful running of the company's new software installed by your company.
We thank you for your great services and for future software installations, the ABC software will be our priority.