An application to work as a translator from home is an application written to the hiring agency of any company, organization, school, college, university, research center, or publishing house, in the fields of arts, medicine, or the law. A translator should be a person known with more than one language. He should be well acquainted with at least two languages.
A translator should possess the following qualities and skills:
A well-equipped knowledge of multiple languages
Sound knowledge of the grammar of those languages
Maintaining a dictionary and specific terminologies of the writing subject
Communicating clearly through translation
Capable of working under pressure
Capable of working under least supervision
Keeping original meaning and context preserved
Capable of converting audio or text of one language into another language
Giving subtitles to the videos or online lectures through translation
Should be specialized in one field at least i.e. law, medicine, arts, or any other.
Basic knowledge of the computer skills
Sound knowledge of translation software and formatting accordingly
The qualification required for a translator is a bachelor's in any subject with a huge focus on the skills needed for the job.
In a job like a translator, the hiring agent focuses more on skills and working experience and less on the degree specialization. Degree specialization is considered more in matters where one subject-related knowledge is required.
For example, to work as a translator in a company in the field of commerce, the hiring company can prefer the applicant with a bachelor's degree in business, finance or auditing, etc. In most cases, companies prefer candidates with more experience in the relevant field of work.
While writing such an application, the applicant should give a brief detail of everything mentioned i.e. technical and non-technical skills, working experiences, and the acquired degree of education.
Exposing your tilt towards working from home is a better way of working as it minimizes distractions and more work faces can be produced in the available working hours. Following is an application sample of this kind and can be used likewise.
Sample Application
Re. Application to Work as a Translator
Dear Mehta,
I am writing this application to present myself for the job of translator that was advertised on the Facebook page of your company on 20th April 20XX. My name is Jenny Steward and I did my master's in English Literature from the University of East London, England. Then I worked in a French firm in Research and Writing.
I worked there as an Editor in Chief from September 20XX to 20XX. I did a short course of one year in the Turkish language. I worked as a translator in English and Turk language in Youth Turkish Research Center, Istanbul, Turkey for six years.
I left the job in February 20XX due to the prevailing situation of the novel coronavirus. I am seeking home-based work now and I realized that your company is a fit.
I am able to covert Turkish text or audio into English and vice versa. I am proactive in these two languages and usage of their grammar and sentence structure. I can provide well-maintained translations by preserving the original language's context and meaning. I can provide the clients with a quote-based length of projects.
I am eager to work in your firm because of its demand for having a grip over Turkish and English language skills along with grammar and accuracy of sentences preserving original meaning and context. Working from home is my priority in the current scenario of Covid-19 and its implications.
I have enclosed copies of my educational certificates and working experiences with this application. I am looking forward to your kind response.
Thanks
Sincerely
(Signature)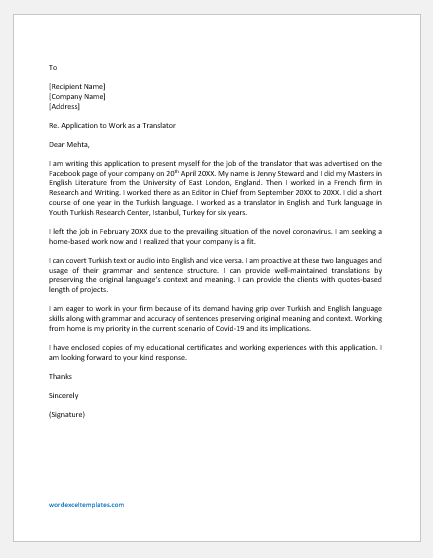 File: Word (.docx) 2007+ and iPad
Size 21 Kb
Download
---