Application for data entry operator from home is written to any company hiring for this job. It may be any company, bank, organization, institutions, departments, schools, colleges, or universities. Some big stores, supermarkets, hotels, restaurants, and shopping malls also recruit Data Entry Operators.
While applying for the designation of a data entry operator one should be capable to manage, organize, and enter proper data. A data entry operator prepares and compiles documents for the company. He performs verification of the receipts and orders. He should be able to use data scanners, optical scanners, and other basic computer skills. He should be able to maintain files, proper folders, and logs. He also should be capable to use computer basics and office equipment.
A data entry operator operates data and quality work maintaining the standards of the company or department. Qualification required for a data entry operator is graduation or other relevant diplomas or courses.
He should have good verbal and non-verbal communication skills, the ability to multitask, and working effectively with high accuracy and under minimum supervision. Many associate degrees and diplomas are offered in the subject of Data Entry Operating.
It is compulsory to mention all your educational qualifications and working experience along with skills demanded the job of data entry operator. The applicant should focus more on technical skills while applying for a job like that. Also, inform the hiring agent about your comfort with working from home.
Following is an application sample to apply for working as a data entry operator and can be used for such kind of purpose.
Sample Letter
Re. Application for the Job of Data Entry Operator
Dear Sir,
This application aims to apply for the vacancy against the post of data entry operator. One of my friends informed me about the vacancy in this firm. I am called Jacqueline Smirnov and I hail from Sector M9, Brooklyn, New York. I did my diploma in short handwriting from the University of Bradford, England. Then I moved to London where I worked in a software house as a data entry operator from December 20XX to September 20XX. while working there, I pursued my diploma in Creative Writing and Communication from ACE College of Arts and Languages, London. Afterward, I shifted to New York, USA. I started working as a data entry operator in HUSK Groups and worked from December 20XX to January 20XX.
Working in these firms polished my technical and creative skills of working. My experience enabled me to work under minimal supervision, multitasking, and better communication skills. I also found my computer skills like office management, working at excel, entering data with accuracy, and maintaining standardizing folders and worksheets.
I intend and feel engrossed in working from home. Working from home enchants me as I feel productive and energetic in working from home as it saves a lot of time and energy. I feel like a good match to the eligibility criteria given in the curriculum of the job and request you to give a kind view to my profile. I assure you of my good working quality and proactivity at work.
I have enclosed copies of my educational certificates and experience letters. I am looking forward to hearing from you.
Thank you.
Sincerely
Signature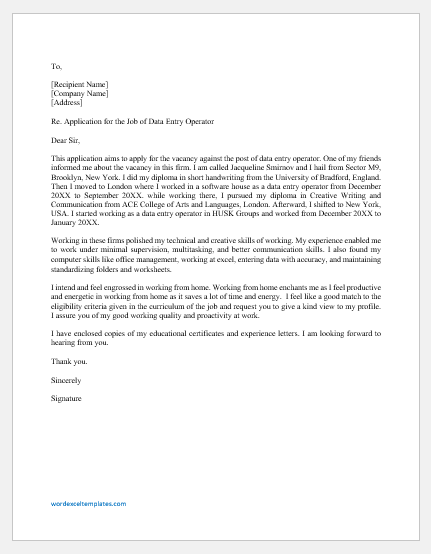 File: Word (.docx) 2007+ and iPad
Size 20 Kb
Download
---