An application for working as a transcriptionist from home is written to the hiring agency of any company, hospital, medical clinic, research centers, studios, and many other places where there is a need to transcribe the voice. A transcriptionist is the one who converts an audio message, interview, or recording into text format. There is no specific qualification required for the job, instead, technical or community colleges diplomas or short courses in the specialization of transcription are appreciated. The hiring counsel focuses more on working experience and skills than qualification or any other requisite.
Keep this in view, the applicant, after mentioning his/her requisites must give a detailed description of the skills required for the job. Following skills are required to be considered competent for the job of transcriptionist from home:
Powerful listening skills
Fast typing on Outlook, MS Word or Word pad, etc.
Good Communication Skills
A moderate acquaintance with a computer basic skill
High accuracy in spelling, punctuation, and grammar
Well-crafted style of writing
Capable of meeting tight deadlines
Able to handle the workload
Capable of producing efficient quality work at home
Work under minimum supervision
While writing an application of such kind, do not forget to mention these technical and communication skills to the hiring agent. The applicant should write the application after lining up various skills and experiences a transcriptionist is supposed to possess.
Following is an application sample of this kind and can be used for the purpose likewise.
Sample Application
Re. Application to work as a Transcriptionist
Dear Meezo,
I am Stephen Andrew from New York United States writing to you with reference to the advertisement of your company for the fulfillment of the vacancy of a transcriptionist on social media. I did a Master's in English languages and Literature from the University of Alaska, Fairbanks. I also did a six months' short course in Transcription and Technical Writing from Desha Community College, Toronto in 20XX. I worked as an editor in Shemar Magazine where I also paid my services in translating manuscripts from March 20XX to September 20XX. After that, I got selected in The Yorker Studio, New York where I worked as a transcriptionist from August 20XX to November 20XX. Afterward, I came back to my hometown Alaska. Now I am seeking a home-based work relevant to my forte of working and experience both.
I am efficient in listening and converting the voice into words quickly. As I did my masters in English Languages and Literature, so I have a sound knowledge of English grammar and punctuation. Working in New York enabled me to handle the work in piles and generate efficient and quality text using good vocabulary by replacing the worn-out words in the audio.
I can type fast while listening to the audio simultaneously with no supervision. My job as an editor helped a lot in trimming down and embellishing my writing style. I hope I meet the eligibility conditions mentioned in the ad. I will be indebted to have an opportunity to be part of the wonderful team of your company.
Thank you.
Sincerely,
Signature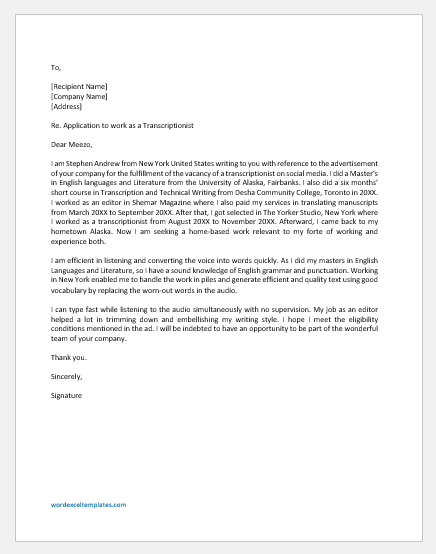 File: Word (.docx) 2007+ and iPad
Size 20 Kb
Download
---