Customer service is a critical component in any business. In today's competitive world, going an extra few steps out of the way to serve a customer is likely to win loyalty and rewards through positive word of mouth. In the age of social media, both happy and annoyed customers are important to businesses as they have the ability to drive crowds either way. Happy customers are just as eager to share a good experience as annoyed customers are eager to share a poor customer experience.
Customer service includes not only dealing with the customer nicely before they make a payment. In fact, it also includes how the entire customer experience is managed all the way until the customer starts using a product and shares feedback. Among the multiple customer care steps, managing customer waiting time is important.
Customer waiting becomes even critical in online shopping scenarios where customers have been observed to show less patience. Thus delays in shipments are an essential issue that requires careful handling. If a business is unable to manage shipping times, it usually results in dissatisfied customers and may also reduce the chances of repeat purchases.
In case of delays in shipment; there are several things that a business can do to enhance customer experience and extend customer patience levels:
Constantly communicate with the customer by informing them of the status of their order
Communicate when the order is dispatched
Communicate if there is a delay in order shipment
Communicate if you are suffering from production or supply issues
Communicate clearly the time it will take you to ship and the time it is expected to take for the order to be delivered to the customer
Provide online tracking information
Use an efficient mail service
Even then, there may be delays in shipment for numerous reasons. Managing the customer politely and apologizing for delays in shipment is a good step in preserving the customer relation. Some businesses are also smart enough to order a discount, waive delivery charges or send a small gift to make the customer happy.
An apology letter is a good effort to keep the customer satisfied with the service. Usually, customers appreciate such gestures. Apology letters are written with a personal touch addressing directly the buyer. Customer sales representatives or customer experience representatives are responsible for managing customer experiences.
A sample letter of apology for the delay in shipment
Dear Sir/Madam,
Thank you for placing your order with us. It is our pleasure to serve you and we make all efforts in making the buying process easy and comfortable for you. Unfortunately, due to some production issues, we were unable to ship your order on time. We have successfully addressed the issues and sincerely apologize for the delay. Your order will reach you within 3 days.
As a token of apology, we are waving off delivery charges. Feel free to write to us or call us in case of queries.
Thank you for shopping with us and we look forward to serving you again.
Sincerely,
[Name of customer representative]
Preview
#1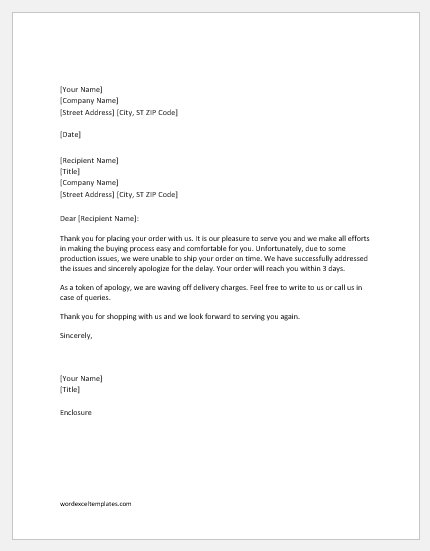 #2