There are many people in the world who experience allergies or intolerance to various types of foods and fragrances. Such people are required to abstain from all those things that trigger allergic reactions in their bodies.
What is allergy log?
An allergy log is a document in which an individual can keep track of everything he eats or drinks. This log can keep the record of more than 30 days. However, if the user wants to use the log for more days, he can easily add more pages to it.
Why is allergy log used?
There are certain things that trigger allergic reactions in the bodies or sensitive people such as foods, a certain type of beverages, furs of animals, and much more. When such people interact with such allergy-inducing things, they start feeling discomfort. Most of the time, people start getting mild to severe symptoms of the allergy. However, they don't know what the reason behind those symptoms is.
The allergy log is then used by such people which helps them know what triggered allergy in them. In this way, they can refrain from eating such foods.
How to use the allergy log?
Allergy log is very easy to use if you are determined to manage your allergy. The user is required to fill the empty details in log three or four times a day. Most of the allergy logs require the user to add everything that a person eats or drinks in a day. However, some logs require the user to input the entire lifestyle to determine which particular thing other than food can be the reason behind the outbreak of the allergy.
If the user is sure that he is getting allergy due to eating something allergic, he does not need to add his lifestyle to the log.
The allergy log keeps the record for 40 or more days. Once the log is completed, the user is required to take that allergy log to his doctor who can determine which component in the food is causing is becoming the reason the allergy.
What does an allergy log record?
A simple allergy log records the following details
Name of the person using the log
Age of the person
Food is taken in breakfast, lunch, dinner
The sleeping routine of the person
The medication was taken by the person
Date of each day recorded
Signatures
Allergy log template
The allergy log template is prepared in MS Excel format. This template provides a pre-designed format of the log. The user is not required to design the format of the template again. Furthermore, the template also provides the user with increased flexibility with which the user can customize and edit the template whenever he wants.
This template enables the user to think about all those factors that might be contributing to his allergy. The doctor can also easily prescribe different medicines to the patient on the premise of details obtained from the allergy log.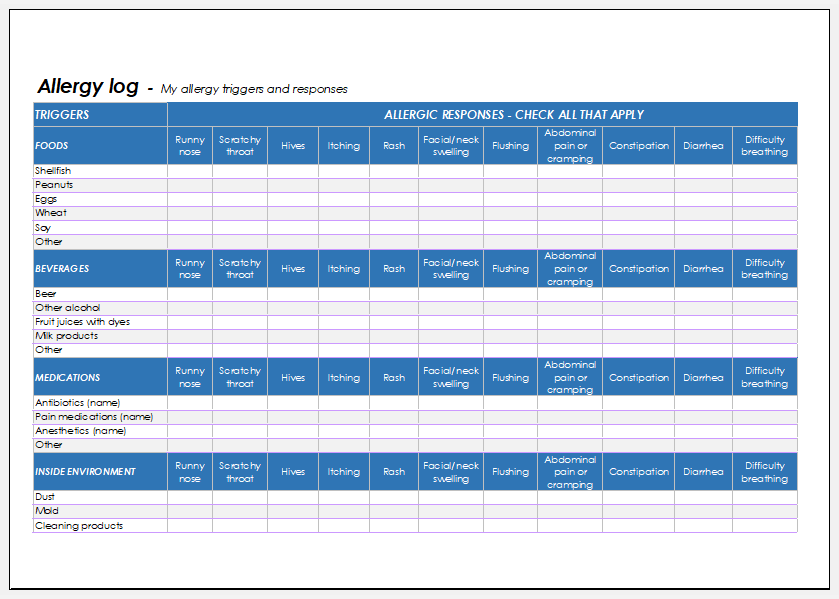 File: Excel (.xlsx) 2007+ and iPad
Size 17 Kb |
Download
---