Letter #1
Re. Excuse for the Three-day Absence from 27-01-XX to 29-01-XX

Dear Sir,
I received a letter from the Manager, HR who has directed me to send a show-cause letter for my absence previously from 27-01-XX to 29-01-XX. The reason behind these strict directions is my uninformed absence. Now, I am writing to you to excuse my absence which was due to my sickness.
On 26-01-XX, I fell from the stairs which put me in bed for three consecutive days. While falling from stairs, my phone broke and I was so badly injured that I could not make it possible to write to the office and inform them about my absence. I was in bed and thus I could not make it up to repair my phone or get to inform the office through any other medium.
The Assistant kept me calling for three days which went un-responded and calls were declined as my phone was switched off. As I could get up from the bed, I sent an email to the HR office telling me about this bolt from the blue.
I am writing to show the cause behind my absence which was entirely due to my sickness and sudden fall from stairs. I am writing to request you to direct the HR department to consider these off my medical leave. I shall be very grateful to you if you do me this favor. Please respond to me on [email]. Thank you.
Regards
Luc Row
The Assistant Designer
I-Laps, New York
23-A, G-Sector of Lester Field, New York, New York 54000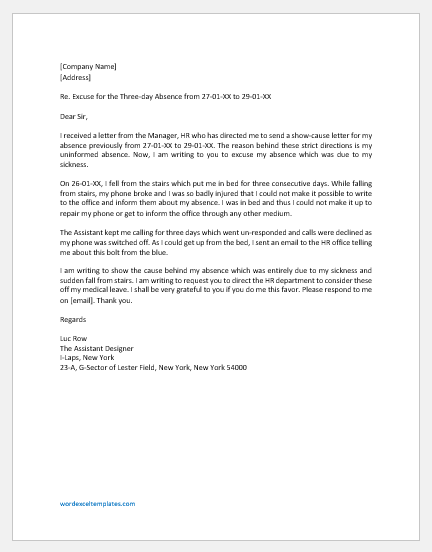 File: Word (.docx) 2007+ and iPad
Size 20 Kb
Download
---
Letter #2
Re. Absence Excuse due to Family Engagement on 23-01-XX
Dear Madam,
This is Edmund Luc, the Graphic Designer from the IT Department of P&2G organization of IT and Web Development. I have composed this letter to you to excuse my absence from the office on 23-01-XX. On 23rd January 20XX, the company had a meeting with an Arabian client on web development and website content. The meeting was held to introduce our perspective to the new Arabian clients who wanted our company to design graphics for them and handle their website after giving it an update and rebuilt design.
The meeting dates mixed in my mind and I confused the date of 23-01-20XX with 23-02-20XX. I had a few technical issues with my mailbox and thus I could not get the latest notification. Staying in this misunderstanding I took an off from the office on the same day i.e., 23-01-20XX for a family engagement. I had to stay with my wife because she was not feeling well as it is her third trimester. I could not inform my absence in the office and could not take the calls from the office.
Madam, I understand the dedication and honesty of work needed to work at a designation that I keep. I am working here for two years and not once I let my supervisor down. I excuse my absence from such an important event. I request you to forward a mail to the HR department to not make any deductions from my project payment. I shall be very grateful. I close my letter with this assurance that I will take care of it next and will not repeat it again. Thank you.
Regards
Edmund Luc
Graphic Designer
Public and Galileo Graham Organizations of IT and Web Development
23-P Star Heights, New York, New York, USA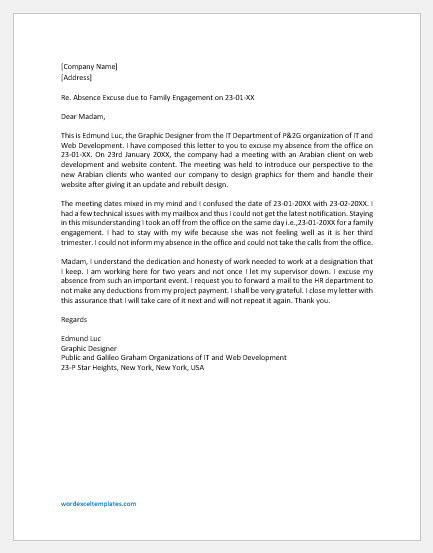 File: Word (.docx) 2007+ and iPad
Size 21 Kb
Download
---