Work from home is formally known as "Remote Work" whereby employees aren't required to commute to their workplaces and allowed to work from wherever they reside. Many offices follow the inhouse work policy and thus won't allow their employees to work from home. In such a scenario a formal letter request is to be made by the employee to the management asking them to grant permission for remote work.
Circumstances that lead towards remote work:
An employee may request to work from home if the daily traveling is affecting his performance and is becoming a stumbling block in his focus at work.
If an employee is under the weather and wants to join the team and perform the assigned tasks by remaining in his/her comfortably safe zone.
If the distraction in the office or environment isn't suitable enough for the full productivity of an employee, he/she can put the case of requesting work from home facility anytime.
An employee may address this issue in a formal email or a letter. The verbal or telephonic conversation isn't appropriate for legal action. An employee may always state clear and formal reasons for shifting his/her interest in remote working to give the employer some valid and propitious excuse for accepting the request. Consequently, the management would have nothing left than to accept such an impactful request that goes in their interest too.
Tips to write impressive request letter:
Be formal:
Always maintain a formal tone while composing a letter or an email to your employer. Avoid contractions, slang or conversational language. Even if the employee has discussed this matter verbally before forming a letter, maintain a polite and respectful tone throughout the letter.
State a genuine cause:
To let the request be accepted by the employer, the applicant should put forth a valid and genuine cause for remote work. There's no doubt an employer may reject the request for it being built on inconsiderate clauses by the employee.
Stay to the point:
An employee should keep the request brief and to the point. It is never advised to write down unnecessary details to the employer which is of no benefit to him/her.
Offer prospect benefits of working from home:
The management of the company will accept the request of an employee only if it is of any benefit for the company in the long term. Therefore, it is highly encouraged to explain the benefits of working from home.
Specifically, in this fast-paced era of technology, there is nothing that can't be accomplished by working from home. An employee can remain in continuous contact with his/her team while being more productive and more agile by doing smart work at the same time. The only thing that matters for the employee is to be clear in his/her mind before addressing the employer a formal letter of request to work from home.
Sample Work from Home letter Request
[Employer's Name]
[Employer's Designation]
[Company Name]
[Address]
[Contact Info-optional]
April 15, 20XX
Subject: Request to work remotely (until September)
Dear Sir/Madam,
Greetings!
I hope you are receiving this letter in the best of health. Genuinely I feel extremely fortunate to be surrounded by the industry's deft professionals who have mastered the art of mentorship as well. I have continuously evolved both on a personal and professional level. I always look-up to the ideas of growth and utilizing time smartly and thus regarding this letter, I want to put forth my plan for more productivity in the coming months.
As you know the production issue has toiled all the employees working in branch [X] from the past one month. I was also in quest of finding an appropriate solution. So, this past Saturday at my leisure I randomly started working on a possible solution because it has been on my mind since its inception. I cannot describe in words the depth and clarity of focus I was able to achieve in my home while working on the solution. 
As per my analysis due to distractions in the office and tiredness of the commute we avail, it becomes tedious for many employees to perform according to their full potential. The bugs that we have just encountered demand full concentration and smart performance, and that I was able to achieve while working from home. The task that would usually take up to 4 hours can be done easily in 2 hours with more adept execution. Along with this prime benefit, I would be able to save a few bucks that I spend on traveling and meals while doing an in-house job. It would help me succor my grandmother in heavy medical expenses.
Considering the causes, I request you to grant me work from home eligibility. This would be a favorable situation for both me and the company as the core developers need a comfortable environment to work in. And, for the fact that the benefits outnumber the drawbacks. There will be a seamless connection and continuous reporting of work from home. Also, I will always be able for company meetings in-house if and when required.
Thank you in advance for taking out time to read this letter. I am looking forward to your response.
Sincerely,
[Employee Name]
[Designation]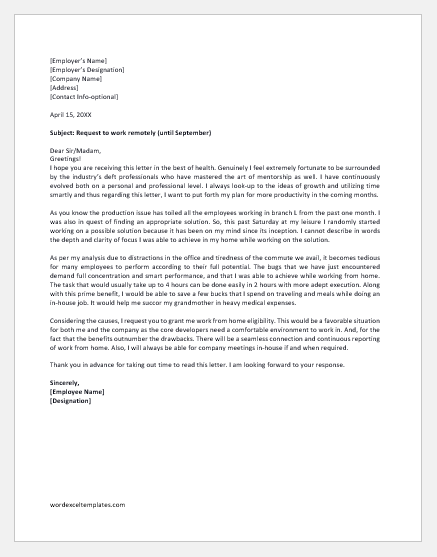 File: Word (.docx) 2007+ and iPad Size 21 Kb |
Download
---