An achievement award certificate is a formal document that is used in educational institutions and business organizations both. It is a method of attesting the efforts and good performance of a person in any particular field.
These kinds of certificates may be presented as awards to the best employees of a company or to the outstanding students of a school, college or university. It is a tool for recognizing the hard work of an individual for any cause.
The given template is a basic format for merit or award that can be downloaded from the internet. This award certificate template can be used to draft your own professional document of appreciation for any employee or student.
In many organizations, the award certificates are provided for the achievement of good results and outcomes. There are various advantages to giving out this document. Among the many benefits first and foremost is that it helps motivate the person to do more. It is an encouragement tool for the individual or team. These certificates also act as an inspiration for others to work well.
The people who do not get this award will be inspired to work more and give in more efforts to achieve better results.
These types of certificates help in developing sound competition among the members. They provide appreciation to the people who have worked hard and put in their best efforts. You can also make use of this document in your company to the best employees and keep them motivated.
Preview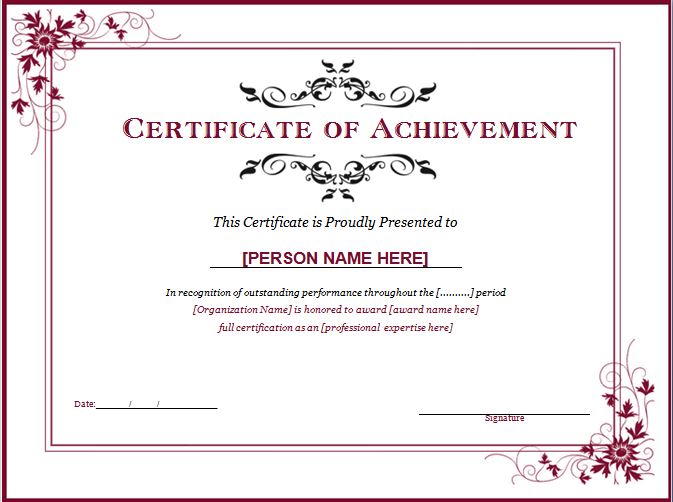 A certificate of achievement is an authentication device to enable one to perceive someone else's success. Maybe they've accomplished a wellness objective, completed a noteworthy task at work, or have the right to be perceived for a lifetime of humanitarian work.
Everybody wants to be perceived for their diligent work and the vocation well done, and there are times when money related honors aren't needed.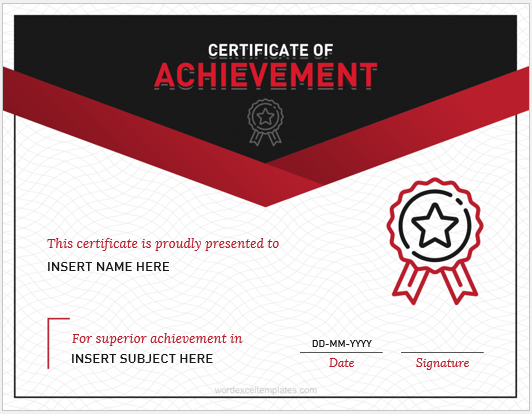 File: Word (.doc) 2007+ and iPad Size 2276 Kb |
Download
---
Various studies have shown that when an individual joins an ethical incentive to their work, they can feel that a financial honor disparages their work. In these cases, a ceremony that incorporates giving them a testament of accomplishment might be the most ideal approach to express profound gratitude.
There are numerous situations in the work environment when a reward isn't suitable, yet a congratulations is. Also, at those occasions, you can utilize certificate of achievements to help loan additional load to a program of positive reinforcement.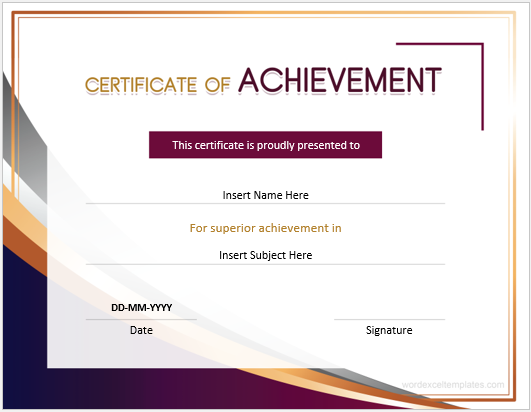 File: Word (.doc) 2007+ and iPad Size 803 Kb |
Download
---
Some approaches to consolidate achievement certificates include:
Task Completion – When a major undertaking or a noteworthy arrangement at work is done, rewards are regularly passed out. At the point when these accompany little more of a handshake, you can send the signal to your group that your association with them is entirely commercial. Giving rewards at a small awards ceremony, and giving out certificates of achievement to colleagues, can help fortify the thoughts of collaboration and appreciation.
Ceaseless Advancement at Work – There are times at work when rewards aren't fitting. Finishing required training, completing a vocation on time, or giving clients positive encounters with your company, for instance, are for the most part fundamental desires for work. Giving a financial honor for finishing essential prerequisites can backfire. Be that as it may, making a program of positive reinforcement, where representatives are perceived for the work they do, can enable lower to pressure and instruct better occupation habits.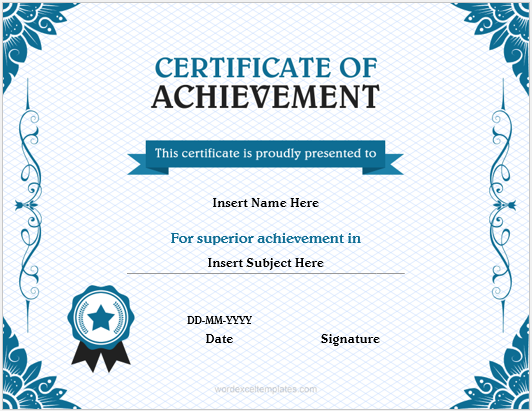 File: Word (.doc) 2007+ and iPad Size 3221 Kb |
Download
---
Skill Recognition – When a student has learned a skill or has performed well in his curriculum, help him celebrate with a certificate of achievement that he can gladly show his parents. Not only will it help fortify his confidence, however it will likewise help his to understand that learning is great. Also, parents will revere accepting an achievement award certificate demonstrating their child's development.
Network Involvement – For a person who performs volunteer work, for him receiving a certificate that praises his work would bring him joy. But offered a monetary reward, this individual will feel that his endeavors are reduced in the event. In any case, he may love to be perceived with a small ceremony and a certificate of accomplishment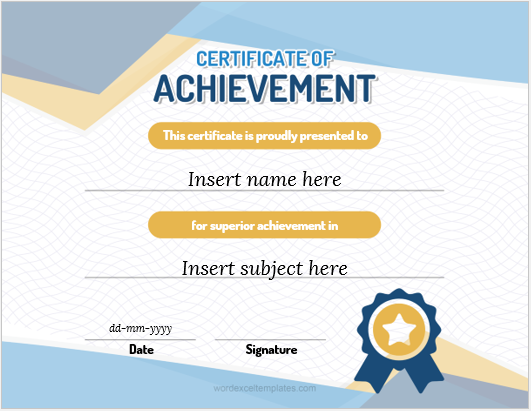 File: Word (.doc) 2007+ and iPad Size 2231 Kb |
Download
---