A sumptuous dinner is incomplete without a bottle of fine wine. There are different types available in the market with a vastly varying range of price tags. Those with a taste for refined things appreciate expensive wines. These are the ones which have aged beautifully leading to the perfect taste and aroma.
On the other hand, there are also rare wines with a high value in the market. Fancy hotels and restaurants maintain their own collection of wines in dedicated cellars. It helps in fulfilling the demand placed by different classes of clients. Personal cellars can also be maintained by passionate collectors. It is not difficult to find the right wine. However, it may be complicated to manage the collection once it grows in size.
A wine inventory can cost a huge sum of money. It should be organized and maintained well in accordance with its high value. Providing a good storage preserves the stock. Over a period of time, the value of each bottle increases due to further aging. In addition, holding on to rare wines is an excellent investment which promises high future profits.
For beginners, the first step towards starting a wine collection is keeping a track of the contents. An order must be maintained for the storage. In simple words, it is important to know where each different type of bottle is. The bottles can be arranged according to date, brand or any other identifying factor. This is also important for restaurants and hotels where the inventory contains rows upon rows of wine bottles.
Tracking should be quick in order to provide a timely service to clients. This tracking system is also important for preventing losses. As the hotel staff is aware of this record, no bottle can be removed from its shelf unaccounted. For personal cellars, the tracking system plays an important role during regular appraisals. This process enables investors to estimate the true value of their collection from time to time.
Computerized wine collection inventory systems are available owing to the advanced technology. These systems offer precision. In addition, these are also less time consuming as compared to manual records.
Preview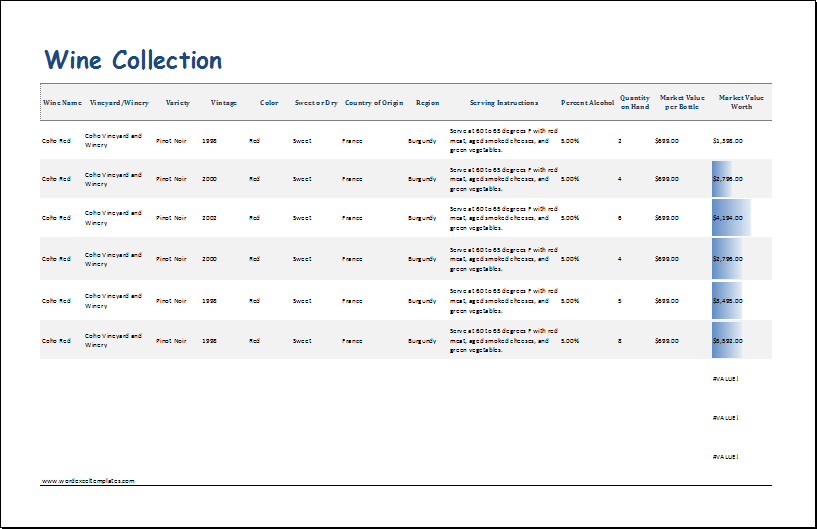 File: Excel (.xls) 2007+ and iPad
Size 54 Kb   |  Download
File: OpenOffice (.ods) Spreadsheet [Calc]
Size 18 Kb   |  Download