One of the most salient features of every business is its financial aspect. Managing assets, liabilities, profits, and losses are crucial to success. The growth of a business cannot be determined unless a proper record is maintained for its finances. This area must be organized before a company can thrive.
Accountants are hired for this purpose. They are entrusted with the critical job of maintaining financial statements. The most useful of such statements is a balance sheet. Its vital functionality is appreciated by every business owner and accountant.
In fact, it is one of the three major financial statements maintained by every organization – the income statement and cash flow statement are the other two. These measures are used to evaluate the financial state of a business at a given time. This information carries immense significance for business owners as well as shareholders.
A balance sheet is basically a document that represents the entire collection of assets as well as capital owned by a particular business. After calculation, the net asset value should be equal to the capital as well as the net profit achieved by a business at the end of its financial year.
This balance is important to indicate success. However, a low net asset value represents a loss. Overall, this information helps in planning the finances for the coming years. In addition, the financial strengths and weaknesses of a business can also be determined.
A balance sheet representing financial ratios is more useful for making these evaluations. These ratios are calculated by utilizing the information provided by various financial statements. In the end, the calculated ratios play an essential role in analyzing trends.
Moreover, these financial ratios are also used for making comparisons between the financial conditions of various organizations. The results may act as an indicator of a firm's future bankruptcy.
A balance sheet with the financial ratio is, therefore, important for creating future action plans. The calculations are made by experienced accountants. Business owners must also have an understanding of these consequential financial statements.
It is necessary for supervising the hired accountants. An online template for a balance sheet can be used to yield perfect results.
Preview and Details of Template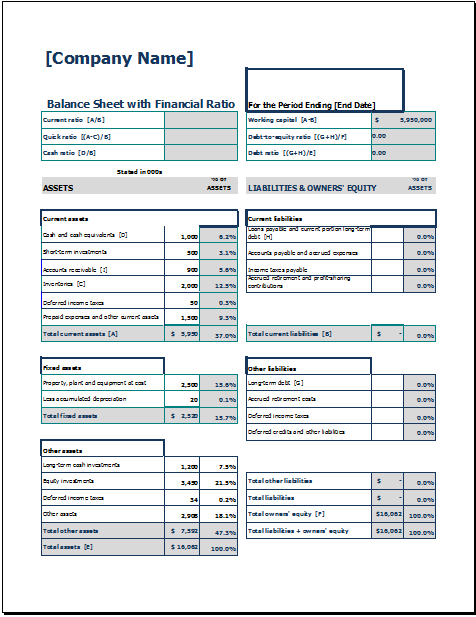 File:Excel (.xls) 2007+ and iPad
Size 36 KB