Everyone loves a vacation. Therefore, every organization allows its employees to go on vacation once or twice a year. The vacation refreshes the mind of the person when he gets a break from the tedious work.  Any person who is sick and tired of his daily routine and can choose to visit a refreshing area to re-energize himself and to fill his life with happiness and enjoyment.
Although going on vacation is something everyone loves, some people have to give it a second thought when they have to enjoy the vacation with a limited budget. Such people are required to stay within budget constraints and then enjoy the holidays with their friends and family members. Making a budget and then sticking to it is very easy when you plan everything ahead of time.
What is a vacation cost planner?
A vacation cost planner is a very simple tool that is used by all those people who want to budget their trip.
What are the benefits of using the vacation cost planner?
When you plan the cost of the vacation, you get away with the situation in which you might feel yourself at the end of the rope. Therefore, different cost planners are used by people on several occasions. Here are some common benefits of having used the vacation cost planner.
1. It saves the cost
As a matter of fact, the planner is used with the notion that everyone should spend wisely. Although people put by a specific amount of money for going on vacation, there are possibilities for them to bite off more than they can chew at times. So, saving the cost is always a priority. The cost planner enables the user of the planner to reconsider all those expenses which are unnecessary and should be given a miss. Therefore, the user is likely to save the cost to a large extent.
2. It makes planning easy
There are different fields in the vacation cost planner that are used to obtain different types of information about different categories. In this way, this planner enables the user to break down all his vacation-related expenses into small categories and plan everything. This makes it extremely easy for everyone to plan the cost of the vacation.
3. It shows the progress
Any person going on vacation is not supposed to use the cost planner before going. Rather, he can use the planner while enjoying the vacation. The vacation cost planner often shows the progress of the user in the form of graphs which makes it easy for the user to see how well he has been going
4. It makes it easy to estimate travel expenses
Those who have not yet set out for vacation can use the vacation cost planner to estimate all the costs they will have to incur. Since the vacation cost planner breaks down the expenses into small categories, people find it extremely easy to estimate the cost of hotel, airfare, and whatnot.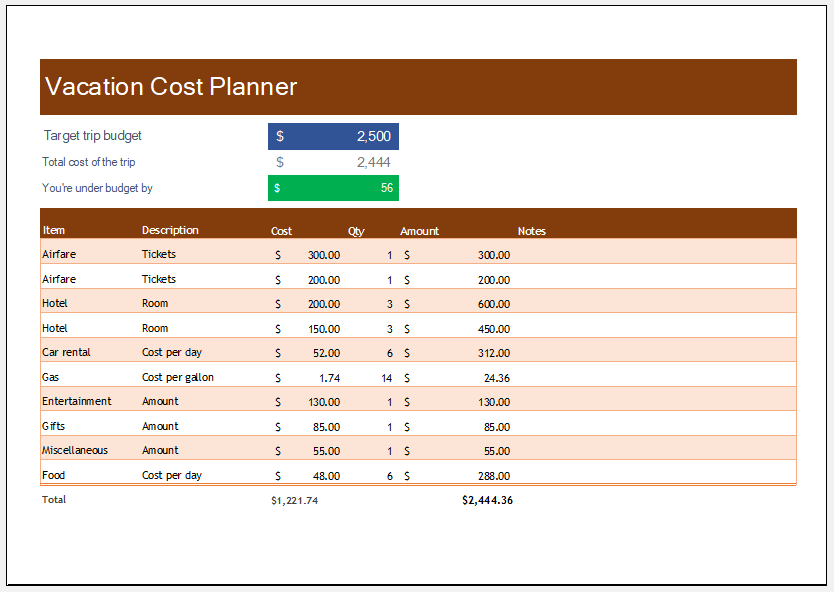 File: Excel (.xlsx) 2007+ and iPad Size 19 Kb |
Download
---