Usually, employees struggle a lot when they are working in a firm. The nature of their problem can be of any type. Some employees go through financial problems despite having full-time employment. When an employee feels that applying for a job transfer within the company can help him get rid of financial setbacks, he can apply for a transfer.
What is a transfer request letter due to pecuniary problems?
It is a formal application that a worker sends to his manager and asks him to consider the application of job transfer the reason of which is pecuniary problems.
When to write?
It is not easy to apply for a job transfer because job transfer is difficult for the worker as well as for the manager. However, sometimes things start taking a turn for the worse and the employee is left with no choice but to apply for the job transfer.
Points to remember:
There are a few points remembering which can help you a lot in drafting a convincing request:
Write a brief letter
You must be having a lot on your mind to discuss with your boss. Many people believe that the more they share with their manager, the more likely it is to get the request accepted. However, this is a misconception. Some people write so long letters that it fails to convey the right message to the manager. Therefore, the manager does not approve the request.
Know what you can settle for:
There are also some compromises for a person to make when his request gets accepted. For instance, sometimes the employee does not get the job in the same position as the one currently he is working on. In addition to it, job transfer means working in a new environment with new people. It can also lead to many problems. However, if all this gives you relief from financial problems, you can take a risk.
Follow the format:
Every request letter has a structure in which the details are outlined. If you don't pay attention to the format, you will end up writing a letter that will have no coherence among its components, and thus, it will not be easy for the reader to understand it.
State why you want to get a transfer:
The manager would like to know what has compelled you to make this request. Remember that if you can give a reason that sounds sensible, you can get the approval of your request. The manager also wants to know what difference the transfer will bring to your financial condition. So, must specify how you are going to get it done.
If you want to know how you can draft a perfect request letter, you can consult the sample letter given below. This sample has been written to the manager by a worker who has failed to make ends meet and can easily manage his finances if he gets the approval of the request.
Letter Sample
I am writing this letter to make a formal request to transfer my job to the branch of the company located in (mention the location). I am requesting this favor because of the financial setbacks I am going through.
As you know, I am living alone here and my family is living in another city. Living alone is very expensive and I find a very small amount of money left with me. I am the sole bread earner of my family and I have to shoulder lots of responsibilities. Because I am living here and spending 60% of my salary here on transportation, food, and accommodation, it has become very difficult for me to make ends meet. The current situation of the pandemic has also added insult to the injury.
I know that you can understand how it feels like having serious financial problems and I expect you to understand my situation. You can contact me anytime if you want to know anything else regarding my explanation. I am waiting for a kind response from you.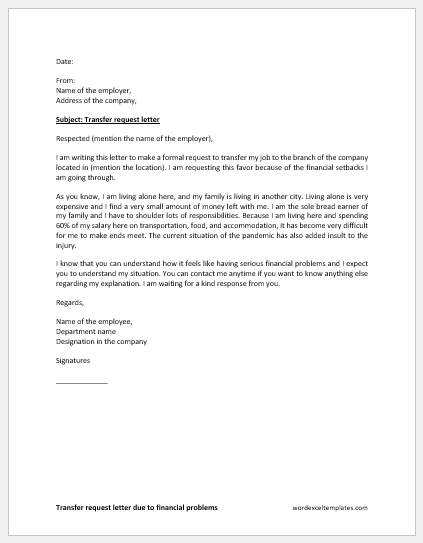 File: Word (.docx) 2007+ and iPad
Size 17 KB