Whenever a large project is started, companies invite people for bids. The purpose of these bids is to let the company know that how much money and time the bidder will take in completing the project. These bids are usually required to be submitted within a given time frame. Whenever someone wants to make a bid, they can write a tender participation letter.
What is a tender participation letter?
It is a type of business letter that allows the sender of the letter to put down a formal request for taking part in a tender. The purpose of this letter is to be able to make a bid.
In some cases, companies and individuals ask suppliers and stakeholders to submit bids. However, if they don't get an invitation, they can simply request participation in the tender.
Why it is important to write a tender participation letter?
Many institutes come with a well-structured procurement process whenever they go about a new project. This process enables them to find the most suitable vendor after careful and thorough evaluation. The purpose of the tender process is to ensure that the vendor is selected in a very transparent way. People are asked to come forward and list the purchase price and the conditions under which they are ready to work. When they do this, they are said to have participated in a tender process.
In some cases, institutes don't allow everyone to participate or solicit only a specific sector of the industry to take part in submitting a bid. If someone thinks that they are capable of making a bid and capturing the attention of the institute, they must write the participation letter.
When is the tender participation letter written?
Some of the common situations in which the contribution in the tender letter can be drafted are:
When a vendor wants to make a bid for selling his products
When a supplier has his stock for sale and wants bidders to have a look at it
How to write a tender involvement letter?
Since the purpose of this letter is to convince the reader into accepting your request, you must know how to write an effective involvement letter. Follow the tips given below:
Write on the letterhead of your company:
Whenever someone writes a participation letter, they usually do that on behalf of their company. The recipient wants to know that the letter has been sent from a legitimate seller. So, the vendor should always use the letterhead of his office to write this letter.
Ask for the involvement:
Since this is a business letter, you cannot waste your and the reader's time by adding unnecessary things. As soon as you start the letter, let the reader know about your interest in the particular tender process. For this, you should give reference to that particular bid that you are targeting and want to take part in. Mention the platform where you saw that request for a bid posted and also tell the date on which it was seen.
Give information about your business:
After the reader has come to know that you want to take part in the tender, he will want to know about you so that he can decide whether you should be allowed to get involved or not. So, provide your details and the details of your company. For instance, if you are targeting the tender for a college canteen, let the reader know as to how long you have been working in the industry of catering and what achievements you have on your record to exhibit.
Offer your bid:
Although you will be asked to make a bid when you are approved to contribute to the tender, you can make the reader know about the bid you are likely to submit. This is a good strategy to attract the reader and convince him into accepting your request for participation in the tender.
Provide your contact details:
In the end, you should provide your contact details where the reader can contact you to reach you to respond to your letter. These details can also be included in the clear call to action.
Sample Letter
To,
The Manager,
(Company Name)
(Address of Company)
Date:
Subject: Tender Participation for [X]
Dear Sir/Madam,
I am writing this letter in reference to the discussion over (state whether it was telephone, meeting, etc.) for (what product or service). Our team thanks you for the interest and dedication you have shown towards our products and services.
We have enclosed a detailed company profile so that you can check it out in your own time.
Our key focus area currently is (state this).
We hope to work with your organization and take part in the upcoming tender for (state this here). Please register our name in the database for any future tenders.
Feel free to contact us on (state number or email).
Thank you!
Regards,
(Your Name)
(Designation)
(Contact Number)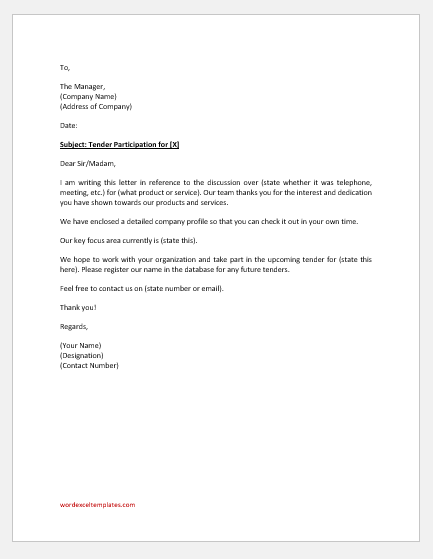 File: Word (.docx) 2007+ and iPad
Size 21 Kb
Download
---