To work efficiently, a person is required to have a healthy mind in a healthy body. If there is no coordination between the mind and body and the person doesn't feel healthy physically or mentally, that person should be given a break from work. However, it completely depends on that person whether he wants to take a break or not. Some people are strong enough to handle their stress and physical problems. However, at times, the problem increases to the extent that there is no option left but to resign.
What is a resignation letter due to health and stress?
If a person feels that he is not physically and mentally healthy, he can decide to quit his job and communicate his decision with his boss by writing a resignation letter. This type of resignation letter is always written because of health reasons.
How to write the resignation letter due to health and stress?
In case you are trying to jot down a resignation letter that communicates your message and also doesn't ruin your relationship with your boss, you should try to write the resignation letter in an efficacious way. If you are not able to do it right, you can follow the tips given below:
Express your gratitude:
It is a very common perception about people that they leave when they feel unhappy about their job. However, this is not the case always. If you are leaving and you want your boss to know that there is no such bad reason in your head about leaving, you should show gratitude to your boss. The purpose of expressing gratitude is to make your letter look like a positive piece of writing.
Now the question is what you should be thankful for? Well, there are lots of such things you can be grateful for. For example, you can show gratitude for the opportunity your employer has given you to work in his company. The work experience in any organization matters a lot. You cannot thank your employer enough for the work opportunity he has provided you. You will be able to find another job easily based on the work experiences you have obtained.
When you show gratitude, you actually keep the doors at the workplace open for you. If you want to come back after a full recovery, you will have a good chance that your boss will employ you again.
Tell your boss that you are leaving with your own will:
When you resign from your job all of a sudden, your boss might be worried about this sudden decision. Therefore, you must make your boss believe via this letter that you are making an exit voluntarily and no one has forced you to do that. You should also specify that there is no such factor at the workplace that has compelled you to exit.
Give reason:
When you are leaving because of poor health reasons and stress at home or workplace, you should not be ashamed of giving this reason. Although it is not mandatory to provide a reason, you can give a reason to be clear as to why you are exiting.
There is no need to be emotional while providing the reason. Mention that it has become difficult for you to perform your duties in the same way you used to perform earlier because of bad health. This is a sensible reason that your boss will immediately accept. Additionally, it shows that you are honest with your job and when you feel that you are not doing justice with your job, you decided to quit.
Close the letter on a positive note:
Your resignation letter needs to be positive from start to end. When the start of the letter included gratitude, the end of the letter should also include a positive statement. For example, you should wish your company and everyone working in the same company the best of luck for the future. This will make everyone keep their fingers crossed for you. At the end of the letter, you can again say thanks to your employer for taking his time in reading your letter.
Sample Letter
Re. Resignation Notice due to Chronic Illness and Breaking Down into Stress
Dear Sir,
I am Allison Parker, the Assistant Manager in Gracehouse Industries in the Department of Administration and PMS. I am working here since 2009, thus completing my twelve years of working here in June. I have seen twelve springs of my life while staying a part of the Grace house team. Being a Gracehouse member has always been a matter of great success and esteem for me both professionally and personally.
This is very saddening to state that this letter is to be submitted as a resignation notice. The notice is effective from 25th March 20XX. I am sorry for not providing this notice prior as I was a little baffled with the idea of resigning from the work but my doctor advised me to get hold of this decision as I am not fit to fulfill all the responsibilities at my work. I am suffering from Fibromyalgia which gives me pain chronically in my skeleton muscles and yields issues with memory and mood due to sleep deprivation it brings.
Due to this disease, I am also going through a lot of stress as I am a single parent and I have to look after everything related to my son who is 5 years old. Moreover, I do not consider myself fit for the demanding job I am doing and do not want to put the company into any trouble.
Thanks for all the love and appreciation.
Regards
Allison Parker
Assistant Manager
Grace house Industries
B-11, Sector 90, San Diego
CAM, USA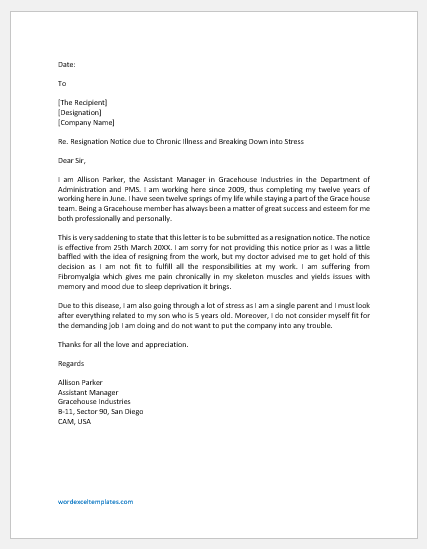 File: Word (.docx) 2007+ and iPad
Size 21 Kb
Download
---