Oftentimes, we want to rejoin the company after we have left it. However, to start working in the company again, we will have to put a formal request to the company to let us rejoin.
What is the request letter to re-join the company?
If we have resigned from our post in the company but we want to undo our decision, we can ask the manager of the company to let us rejoin. Remember that we can start working again only when we have a good relationship with our boss.
When we should make a request?
Some situations in which it can be a better idea to write this letter are:
When we regret resigning from our job and we feel it later
When the company we have left makes a better offer to people who want to join
When we are not comfortable at a new place and we find it to be a better idea to go back to our previous job
When we earn new skills and now we feel that we can be recruited on a better position in the company we left earlier
When we are unable to find a better job after we have resigned from the job
It is important to remember that the content of this request letter changes with the situation. So, know your situation and determine in what way you can write to put forward the request.
How to write a request to return to work?
Whenever you want to write this letter, the tips given below can be helpful for you:
Give your introduction:
Before you put forward the request, give your introduction so that the employer can remember you. While giving your introduction, you should not forget to mention your name, the position in which you were previously employed, the duration of your employment in the company, employee number, and much more.
Tell him why you left:
The employer or manager of the company might want to know the reason for leaving the company. Therefore, provide the reason. Make sure that you remain truthful.
Request to return:
The main part of the letter is the request that you are going to put after the formal introduction. Formally make a request and ask the manager to reassign you to the post on which you were previously working. To convince the manager, you can tell him that you are aimed to work with even more diligence and hard work than before.
Ask for the procedure to apply:
After receiving your request to return to work, the manager may ask you to write an application or participate in a regular recruitment process depending on the policies of the company. So, ask him politely that what procedure the company follows and what you will be required to do to return to your previous job.
Formally close the letter:
At the end of the letter, you are expected to close the letter appropriately. For this, you should never forget to thank the reader for considering you an employee earlier and also tell him what you are expecting from him after reading this letter. Also, provide your contact details before closing to make it easy for him to contact you to respond to your request.
Affix your signatures at the end along with your name and date. Ask someone to read this letter from their perspective and let you know about the needed modifications that can make this letter a better piece of writing.
Things to remember:
When you provide the reason for wanting to re-join, stay specific and try to discuss things in a very brief manner
Although you are required to put forward the request to allow you to restart your work in the company you have worked for before, don't compromise on your self-respect by going so low in your writing just because you need to return
Keep the nature of your boss in your mind. This will help you draft your letter accordingly. If he is hard to convince, you will be required to give some logical reasoning and some more information
Sample Letter
Date:
To
(Name of Boss)
(Designation)
(Department's Name)
(Company's Name)
Sub: Interest in rejoining the company
Dear Sir/Madam,
I was an employee in your organization from (Date) till (Date). I was working in the (name of department) department as a (Designation).
I resigned on (Date) as (state reason here, you may have been sick). I was suffering from (state disease). The doctor told me to go on bed rest till I got better. This took about (tell months) months. Therefore, I was forced to resign despite me loving my job.
I am in good health now, therefore, I want to join the company and will be grateful if this will be possible.
I hope you will consider this matter.
Yours sincerely,
(Your Name)
(Signature)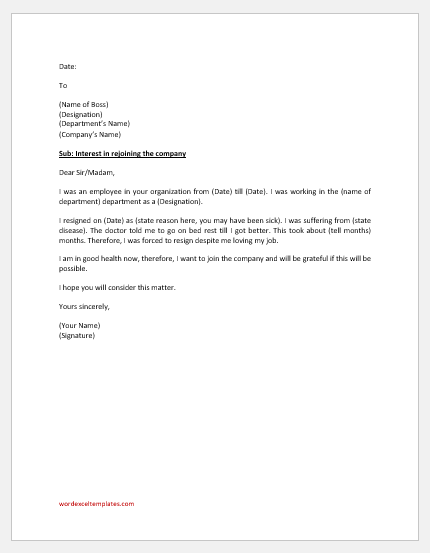 File: Word (.docx) 2007+ and iPad
Size 18 Kb
Download
---