The outbreak of coronavirus has made many people suffer a job loss. Some people are also suffering from a reduction in their salary. Due to this, many tenants are approaching their landlords to get a reduction in the rental amount. In many countries, legislation has been passed for supporting the tenants in this hard time. According to this legislation, tenants are being supported by a reduction in the rent. However, some landlords don't follow the rules implemented by the state. In this situation, the tenant has to write the rent reduction request letter to the landlord.
Why you need to request for rent reduction due to COVID-19
If your employment has been impacted by the coronavirus epidemic, you might be in trouble. It would be difficult for you to pay your utility bills and rent. Since your landlord is also aware of the circumstances, he is likely to understand your problem. You can write him the request letter to ask him for a reduction in the rent.
You can write this letter to request for the postponement, reduction or suspension of the rent depending on your employment conditions. If your job is temporarily closed, you can ask for a postponement. However, requesting a reduction in the rent can help you a lot in dealing with your financial problems.
What details should be added to the request for rent reduction due to COVID-19
Since you are writing this letter to your landlord, you should make sure that you effectively write this letter by communicating with your landlord with an effectively written request letter. Here are a few details that you should mention in the request letter for a rent reduction
The address of your rental property
Name and contact details of your landlord
Name and contact details of the tenant
Request for a reduction in the rent due to COVID-19
This is a formal letter that does not need any additional detail. However, if you want to show courtesy, end the letter by thanking your landlord.
Tips for writing the request for a rent reduction
If you want to convince your landlord to reduce the rent, you should write the request letter properly. Following are the tips that will guide you in writing this request letter
Ask the landlord for a reduction in the rent in a formal tone. There is no need to fawn over your landlord to get him agreed to reduce the rent. Sometimes, it gives a negative impression.
Keep the letter short and precise. The letter should be brief and it should not include more than two paragraphs in the letter.
The tone of the letter should be formal. Address your landlord with respect.
You don't have to mention that you have lost your job or you are having any financial problem that is leading you to ask for a reduction. However, if you want to mention it, write it in the letter.
Sample Letters
Letter -1
To,
Andrew John,
P-54, Street No. 4
Near City Tower, Michigan.
Subject: Request for rent reduction due to COVID-19
Dear John,
You cannot get through my level of embarrassment that I am feeling while writing you this letter. The reason is that I had never been in such a panic situation before. You know that outbreak of the Coronavirus has serious impact on society. It has not only played havoc with the lives and health of millions of people from around the world but also rendered them helpless and jobless. I am, through this letter, making a humble request for a reduction in home rent. Please don't consider it a bargain.
One of the directions passed from the health department is to keep a reasonable social distance from each other and it has made it difficult for the people running their business and daily life routines. I have been facing the worst financial crisis since the day when the official announcement for the lockdown was made. The irony of fate was that the company where I used to be an employee, closed and I had to spend a lot amount of time in order to find a new job. In doing so, I spent all of my savings. By the mercy of God, I am successful in getting a new job but the salary I am being paid is lesser than the previous one. I am, at the same time, looking for new and better job opportunities.
Owing to the situation, I am unable to meet my normal daily expenses because my current salary is insufficient to make both ends meet. I hereby request you to reduce my rent by 20 percent for the next six months and help me solve my financial problems. I assure you that after the said period, you will have every right to increase the rent up to an acceptable limit.
I will highly appreciate and remember your help in my tough time.
Yours truly,
Anderson
09-04-20XX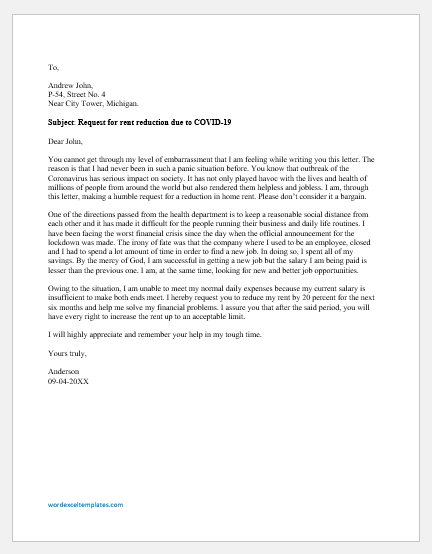 File: Word (.docx) 2007+ and iPad Size 21 Kb |
Download
---
Letter -2
To,
Andrew Robert,
P-54, Street No. 4
Near City Tower, Michigan, USA
Subject: Request for rent reduction due to COVID-19
Dear Robert,
I hope you will be able to understand my situation and thereafter act accordingly after reading this letter. The most devastating event since the last decade which has pushed everyone back to his own feet is the outbreak of COVID-19. Yes, I have been hit hard by the same event which has proved itself a 'game-changer' in my life. I had never thought of facing such a panic situation before. I have been occupying your house portion as a tenant for more than two years and I consider it as my first and foremost duty to pay rent and all other expenses well in time.
As we discussed earlier, I am running my own small business which has been affected badly due to the outbreak of COVID-19. Since the first day of lockdown, I have not been able to pay attention and to run my own business because I am staying at home and going nowhere. This has posed a serious threat to my income and I am facing the worst days of my life. In order to fulfill my family needs, I have sold a major portion of my households, pushing myself back to the poverty line.
I know the fact that you need a handsome amount of money as well but after getting to know my poor condition, I request you to make a reduction in house rent by 20 percent so that I would overcome my financial problem. You can increase the rent later.
Your kindness and support will be highly appreciated by me and my family.
Yours truly,
Anderson
09-04-20XX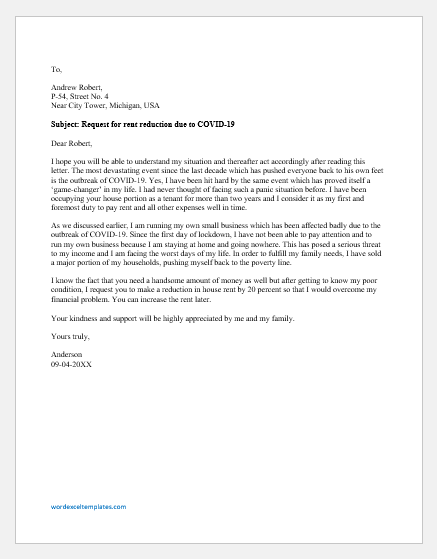 File: Word (.docx) 2007+ and iPad Size 21 Kb |
Download
---