Yesterday, I found the need for this document to be issued against you when I was informed by your supervisor about the fake sick leave you availed from 15-06-20XX to 20-06-20XX and thereby breaching the rules and regulations of the company. The severity of the matter enraged me and I was compelled to write you this reprimand letter.
It was observed that you provided the company with a fake prescription and medical certificate in order to avail of the sick leave. It was confirmed by the doctor who was called by our HR department for cross-checking of the medical certificate. He refused to have issued any such certificate for leave purposes during the above-mentioned dates. You were neither bed-ridden nor admitted to any hospital rather found enjoying with your family in the park as reported by reliable resources. Therefore, on account of insubordination and usage of fake medical certificates, the HR department has lodged a complaint against you.
Availing leaves by means of fake documents is a fraudulent activity and treated as misconduct. Such kind of behavior is not tolerated at all in a good organization. Company rules and policies are made for each employee without any discrimination and these are to be followed.
It is clearly mentioned in the company's code of conduct that any employee found to have involved in using a fake document will liable himself to be terminated from the job immediately. Your offense is bad enough to harm our fame but keeping in view previous hard-working attitude towards work, you are just being reprimanded.
It is expected of you that you will learn something from this letter and refrain from such illegal activities in the future. Being issued with a reprimand or warning letter clearly indicates your level of sincerity with your organization and an accumulation of any of these in your record can debar you from availing perks and privileges offered by the company.
You are hereby advised to provide a written explanation for your misconduct within two days. Failing which can initiate further disciplinary action against you.
Yours truly,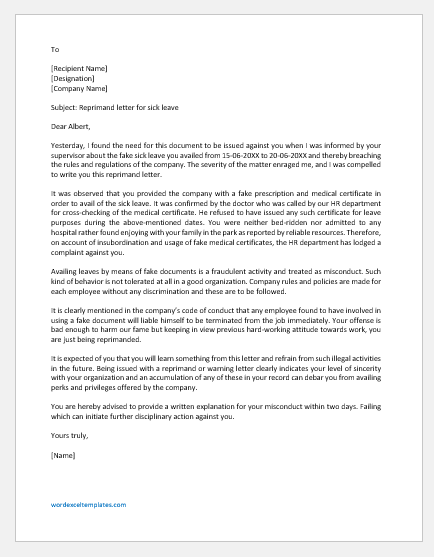 File: Word (.docx) 2007+ and iPad
Size 21 Kb
Download
---
Sample -2
Subject: Reprimand letter for sick leave
Dear Albert,
This document serves as an official reprimand letter being issued to you in response to the fake sick leave you availed from [mention date] to [mention date] and hence failure to comply with the company's rules and regulations which have been made for employees to be followed.
I hereby express my displeasure to you on account of producing a fake medical document in order to avail the leave and thereby violating the company's laws and policies. You have been working with the company for the fifteen years as a senior manager and I believe that you must be well aware of the company's procedure to deal with such illegal and unethical activity.
The company had full trust in you but I felt shocked after receiving the information from the HR department that you produced fake medical prescriptions and certificates in order to get leave on medical grounds. It was revealed when your documents were cross-checked for their authenticity by the concerned doctor.
There is no need to remind you that you are working on a crucial position and the company's well being is heavily dependent on your deeds. You should have set a good example of a positive and sincere attitude for your juniors but I regret to say that you have involved yourself in illegal activities which would harm the company's fame. The company has a zero-tolerance policy for such activities. Moreover, this is a breach of your entrusted managerial role.
There is no exaggeration in saying that you have lost your trust. Through this letter, you are hereby reminded that such offenses resulted in the termination of contracts immediately. On account of producing fake documents, breaching the company's rules, and thereby involving in illegal activity, you have also made yourself liable to be rewarded the same punishment. It has been rightly said by somebody that "There is always room for improvement" and I want to give you a chance to rectify your mistake. Keeping in view your services for the company, you are just being issued this reprimand letter.
You are also warned that any further breach would result in termination from the job immediately. Therefore, assure us in writing that such illegal and fraudulent action would never be repeated.
Yours truly,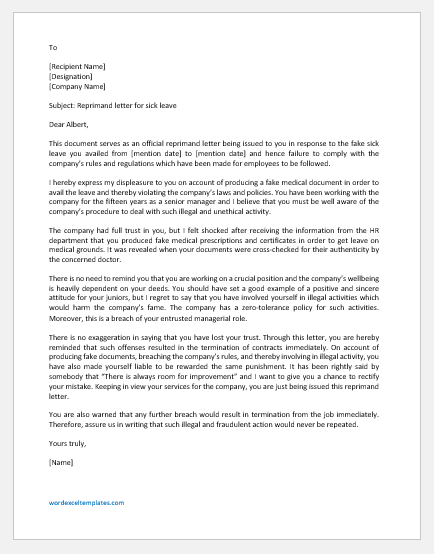 File: Word (.docx) 2007+ and iPad
Size 23 Kb
Download
---