If you have any place that you want to give for rent, you will need to have some written contract for this. You will then have proof and signatures of the person who is renting your place.
What is a Rental Contract Form?
A rental contract form can help you develop a suitable agreement amongst you and the individual or company concerned. This form will have the stated terms of rent and any other details.
How to Create a Rental Contract Form?
Below are some tips on what to include in a rental contract form. You can get ideas from this.
Microsoft Word- This form can be typed in Microsoft Word so that it looks professional.
Heading– Start by stating the heading of the document at the top. This can be in bold. The heading can be something like "Rental Contract."
Agreement of rental– This can be started at the beginning. You should say in which province, city, etc. the agreement was agreed and between who. This needs to be stated clearly.
Dates– Tell when the rental agreement was agreed, i.e., the date.
Any conditions– If there are any conditions of the rental agreement, these should be written clearly. You should state any special conditions and general conditions as well. Over here write all the rules that you want them to follow.
Details of equipment– If there is any equipment or furniture in the building, you should state rules for this as well. A table can be made detailing what the equipment is, whether it can be used, how much it is for, guaranteed rental period, etc.
How much rent– This should be written clearly and also state when it needs to be made, i.e., weekly, monthly, etc., and by which date. All these details need to be clear so that no confusion will occur.
How long the contract is for– This needs to be given so that you can tell the person or company to leave when their time is over.
Signatures– The signature of the person renting and of yourself can be placed at the end of the document.
Advantages of the form
The rental contract form is important because:
It is written as a proof of what you expect from the person or company renting your place.
If any problem occurs, you have the conditions signed in this document, which can be shown in court even if required.
Both parties have proof if any problem arises, like if the person renting the place tells the rented to leave before the prescribed time.
The rental contract form should be made in a way that everything is clear to both parties concerned. Rental disagreements do occur between the parties; therefore, it is better to have written and signed proof of any conditions and rules present. This form can even be presented in court if required. Therefore, if you are the person renting out the place, state any conditions you want to be followed instead of facing problems later.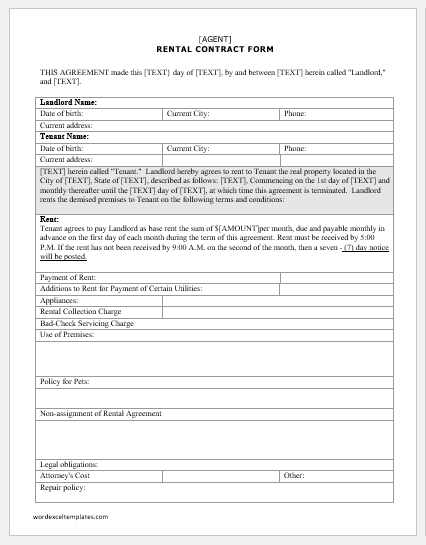 File: Word (.docx) 2007+ and iPad
No. of pages = 3
Size 30 Kb |
Download
---