Commercial Rent Reduction Request Letter
The rent of a shop or any commercial asset is basically set according to the value & locality of that particular commercial area. If the area is central to the city, it is highly expensive & same is the ration in vice versa.
I want to put forward my argument that the area in which your shop is situated is not the central location. Moreover, all the other rentals are being charged very less as compared to me.
The setting of the shop is the main issue indeed. It is situated on the outskirts which leaves no hope for customers to go this much far. Consequently, I am left with very low wages & extremely high rent resulting in making it a hostile condition for me.
It's been a year that we signed the lease agreement & now it is about to be expired. I request you to kindly reduce the rent since it is becoming burdensome & nearly impossible for me to keep up working in such unfriendly circumstances.
I will be highly thankful to you for this favor.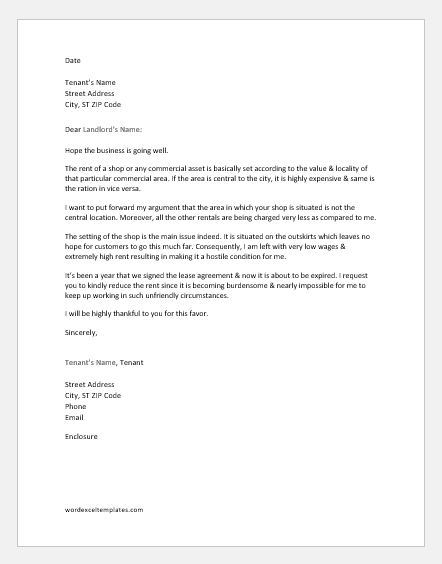 Letter to Negotiate Rent Reduction
At times things turn out to be arduous & give an image of annihilation in near future; negotiation becomes mandatory in such a crucial stage.
The letter
We have been living in this apartment for the last three years & always had good terms as owner & the rental. We never let you ask for your rent even once. But these days my business conditions have turned quite rough & antagonistic. As a result, it has become unbearable for me to manage all the routines equally.
This is very well known to you & everybody else in the surrounding that we are paying more rent than all others living in this location. We never questioned it as we could afford it at that time. But now it is a humble request to you to reduce our rent for at least $300\month so that we could save something for further expenses.
In another case, we will have to move to the next area offering the same kind of apartment for rather low prices. My family wanted me to ask you about it once before we decide about moving if negotiation in rent reduction is made successfully.
I will wait for your affirmative reply.
Sincerely,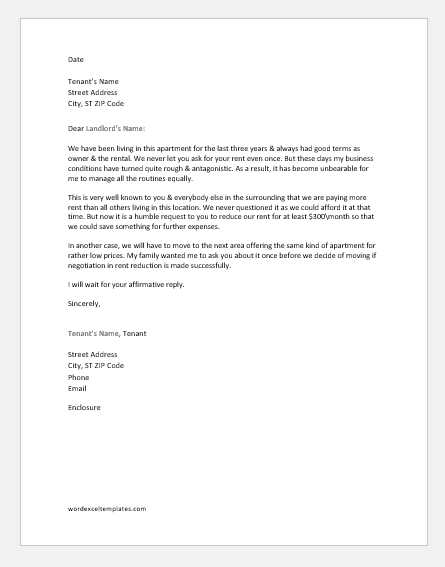 Letter to Landlord to Reduce Rent for Business
Letter to landlord to reduce rent for business is a substantial request letter which portrays the snags & hitches a person faces in the way of running a business. It embodies the poor occupational state since inaugurating a business is stress-free but running is quite hard-hitting.
The letter
I have been occupying your shop for rental tenacity for one year & I consider it my obligation to pay your rent & all other dues on time. I even pay for the expenses which are not included in our agreement like whitewash & some renovations which could be considered something good from your perspective, but it completely makes me insane in my own eyes for making so many compromises on my business for nothing.
In this area, everyone is paying a standard rent except me. I am paying $200 extra per month which is absolutely a precarious deal on my side.
I seriously want to grow my business through savings in the best way. For this reason, I request you to reduce the rent by $200\month so that I can start working on my business properly.
I won't even ask for the amount I have spent on whitewash & other things. I would be highly obliged for this act of kindness.
Thanking you in anticipation!
Faithfully,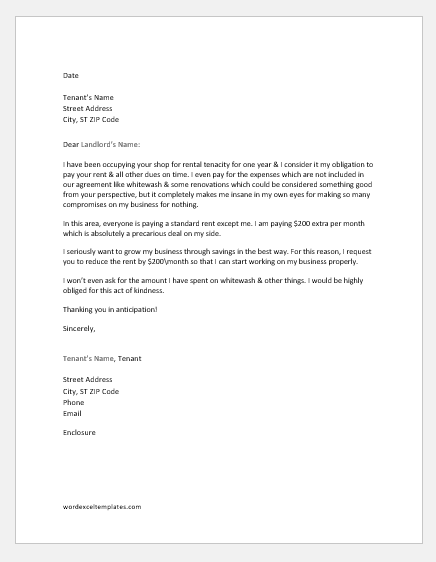 Rent Reduction Request for Office Space
I am about to sign the agreement letter on the subject of occupying your office space for the rental purpose. I am afraid that I won't be able to pay you the rent mentioned in the agreement letter. I have also come to know that the people neighboring me are being charged comparatively low due to this area not being much accustomed to many.
I clearly told your representative in our meeting that I am newly establishing my business & it will take some time to grow. I request you to lessen the rent to the possible confines. I assure you that as soon as my business starts blooming I will make a quick increment in our lease agreement.
I shall be gratified for this utmost favor.
Faithfully,