Businesses work and thrive due to the competent people they hire. Every successful business understands the importance of having a loyal and competent employee. Moreover, there are very few people who work passionately and honestly. Therefore, when companies find competent people, they never want to let them go. Such is a situation that necessitates sometimes writing a recommendation letter to retain employees.
What is a recommendation letter to retain an employee?
This is a letter of reference that is used to tell the employee that he is a worthy person who deserves to be a part of the company and recommends him to remain attached to the company as an employee.
Importance of writing the letter of advocacy:
If you don't want an employee to quit providing his valuable services to your company, you must write him a letter to let him know that he is a valuable person. Sometimes, good people leave because of a lack of appreciation. They tend to find a place where they and their work are valued and they are given undue admiration. If you are serious about retaining an employee, you must appreciate him and then redirect him to join your firm again.
How to write?
In some cases, retaining a worker or a supplier is not easy. However, if you manage to write a letter effectively, you can easily retain him. Here are some tips for you to follow and succeed in your mission:
Appreciate the employee:
It is a common practice that most businesses use these days. Whenever they find a person who is loyal and sincere and works with passion and they come to know that he is about to leave, they must write a letter to recognize his efforts. Sometimes, people leave because they are not recognized for the work, they put in into making a company succeed.  When this happens, they give up and move on. However, by letting them know that you have seen them putting effort and you value what they have done, you will be able to not let them go.
Tell them how they outperformed:
Tell the employee that he has worked better than many people and his presence and work have brought a big difference to the company. This is a realistic way to give value and laud the person who has done a lot for the firm he was recruited in.
Let him know that you want to retain him:
It is very important to be clear that you don't him to quit providing his valuable services to your company. If you have any incentive to offer, bring them up.
Write a clear statement of reference:
Refer the employee to your company and ask him to join it. If you are writing to the supplier, let him know that you will be glad to recommend him and his firm to other companies also who need to get his services.
Sample letter:
Sender's name:
Address of the sender:
Name of the candidate being recommended:
Address of the candidate:
Dear (mention the name of the recipient),
I am glad to write this letter to show gratitude to you for the excellent performance and services you have benefited my company with. You have worked so well and have contributed a lot in raising the sales of the company as a supplier of products to our warehouse. I also appreciate the fact that you were always available for discussion whenever it was needed within the company. Your professionalism and approach towards the job have blown everyone away.
You have been working as a supplier and handling the entire sales department for more than a month now.  The difference your presence has brought to the company is visible. I am feeling now that our company has a lot of progress due to the capable and intelligent suppliers like you.
I would like to retain you as an employee in my company as a sales manager. I would love to take your services in future also. In addition to it, I will never hesitate to recommend your company to any individual or a business looking for the best services.
Name of the sender
Signatures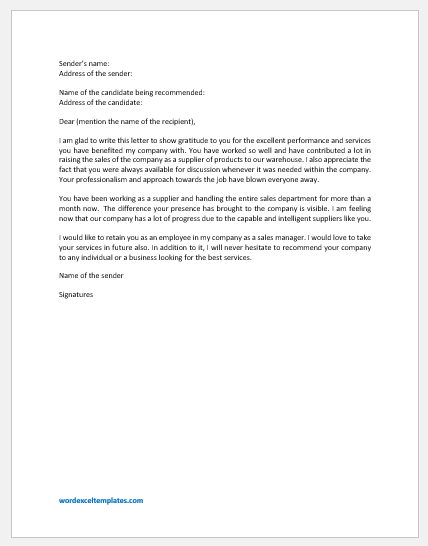 File: Word (.docx) 2007+ and iPad
Size 16 KB