If you are an employer, it would be a common practice for you to write recommendation letters for your current and former employees. Employees ask their previous employers to write them a recommendation letter as it helps them get a new job.
What is an employee recommendation letter?
It is a special kind of business letter in which the employer endorses a person who has worked with him in past. For many supervisors, it is dreary to write a reference letter for someone because they fear that they might end up writing for the wrong person and lose their credibility.
No one wants to compromise on their credibility. Therefore, the employer should make certain that he remains truthful and recommends the person who deserves to be recommended. The employers are usually under no pressure and they can confidently turn down the request to write the reference if they don't feel like writing it. However, before they turn down the request, they should make sure that they do thorough research to know the background of the person they are about to refer to.
How to write a recommendation letter?
The reference letter written for an employee should turn out to be a useful document for him. In addition, this document should be a professional piece of writing that should not contain information that is unclear and ambiguous. To assist you in writing a reference letter that works, we have some tips for you:
Refresh your memory and make a rough outline:
Sometimes, you have to write for a person who has left the company a long time ago. In this situation, it would not be easy for you to write a recommendation. So, try to refresh your memory by checking the background information of that person and then make a rough outline of key personality traits you remember to have seen in that person. With this strategy, you will be able to write this endorsement letter in no time.
Gather details:
Usually, when an employer receives a request to write the endorsement, he asks the requesting person to provide him with some detail so that he can add those specifics in the letter. Adding specifics in the letter is important since it shows that the employer knows the subject of the letter and there are chances that he is being truthful in the letter.
There are many ways to collect details of the person you are about to endorse. The first and foremost way is to ask him to send you, his resume. Then you can check the internal record to see if the employee ever received any warnings. This will help you write a reference that is based on facts and figures.
Master the structure of the letter:
Since you are the employer who commonly writes the endorsement letters, you are not expected to not know the format. Even if you are not sure about the structure, there are many sample letters available that will help you know the structure and format. The structure will help you learn which information to add to the letter. Remember that a wrongly structured letter will make it hard for the recipient of the letter to understand what you are trying to say.
Add personal details of the employee:
Adding the description of the subject of the letter is an important step that you can never skip. Here you will write down his name, job position when he used to work in your company, the department in which he used to work and some other details.
Discuss the positive personality traits:
The recipient of the letter might want to know more about the personality and behavior of the person before he can appoint someone to his company. Therefore, you can discuss how regular, diligent and hardworking the person you are referring to was.
When you write this part, make sure that you don't lie. Try to remain honest and discuss only those things which are based on facts. If there are some shortcomings in the employee, don't bring them up as you will be compelled to say what is not true.
Recommendation letter from a boss
Recommending Mr./Ms. [NAME] for the Fulfilment of the Vacant Position of [POST] for Case No. [xx-xxx-ABC]
Dear [NAME],
Thank you for expressing your confidence in my opinion. I am writing this letter of recommendation to recommend Mr./Ms. [NAME] for the fulfillment of the vacant position of [POST]. As Mr./Ms. [NAME] is one of the most appropriate considerations for the titled job, I would recommend him to be recruited in the cadre [x] complying with all the recruitment criteria of your office.
I know Mr./Ms. [NAME] for several years as he/she has been working in my company as a [DESIGNATION] since 20XX. His/her professionalism, mannerism, competence, hard-working nature, commitment to the work, dedication, and struggle for the best has inspired me to recommend him/her to work as a/an [….] in your company.
He/she has been working under my immediate supervision as a/an […] since 20XX. I have observed his/her work closely and always found it efficient and productive. The creative mind and problem-solving techniques of Mr./Ms. [NAME] distinguishes him/her and makes his performance eminent and remarkable.
Coming from [UNIVERSITY], [NAME] has done his/her major in the [DEGREE]. With an extensive knowledge of corporate management, quality assurance, data analysis, he/she has been a great help for all the counterparts of the company. he/she has been a great asset to the company; hence, we are compelled to replace him/her for internal problems of the company until he/she finds another credible workplace.
Being a boss, I have always found [NAME] competent and well-mannered. His/her flexible nature makes him/her the best and the most suitable fit for the recruitment of […].
Please let me know if you need a detailed profile/resume of the candidate or Terms of Reference (ToR). I shall be glad to furnish more information and make the recruitment convenient for you. You can contact me at [EMAIL] or [PHONE]. Thank you.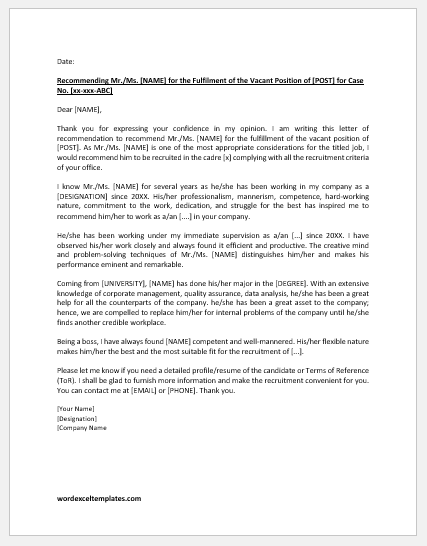 File: Word (.docx) 2007+ and iPad
Size 17 KB
Recommendation letter from a supervisor
Recommendation Letter for the Recruitment of [DESIGNATION]
Dear [NAME],
I am overtly delighted to receive your letter asking for a suitable suggestive recommendation for the fulfillment of the vacant position of [DESIGNATION]. Here is my recommendation for the mentioned position.
Mr./Ms. [NAME] has been a former employee of the [COMPANY]. He worked here for [X] years as a [POSITION]. Later, he was transferred to the Manufacturing Department of the company where he served as a [POSITION] for [X] time. He resigned from the company to change his cadre. I have been his supervisor all the time during his working career in the company. Being supervisor, I can evaluate his performance as wonderful and incredible. He was a very hardworking and dedicated worker. He always prioritized his dedication and commitment to the work.
I assure you of his credibility and professional demeanor. He is a graduate of [INSTITUTE] in [DEGREE]. He also has an additional diploma in the [DIPLOMA] from [INSTITUTE/SCHOOL]. He has done his internship in one of the well-known organizations and hence keeps a professional insight for the work. He has substantial qualities of problem-solving techniques significant for the quality assurance department and the corporate sector of the working cadre.
Having extensive experience in research methods, he has always been a great assistance in the research and development sector of the organization. He has been of great assistance to almost all the organizational and managerial tasks of the company. He has also served in the HRM of the company as a/an [POST]. Having all the mentioned qualities, I deem him as the best fit for the vacant position of [VACANT POST] in your company.
For any queries about the recruitment of the recommended candidate, you can call me at [PHONE] or write to me at [EMIAL]. I am thankful to you for relying on me for the recommendation of the candidature. Thank you.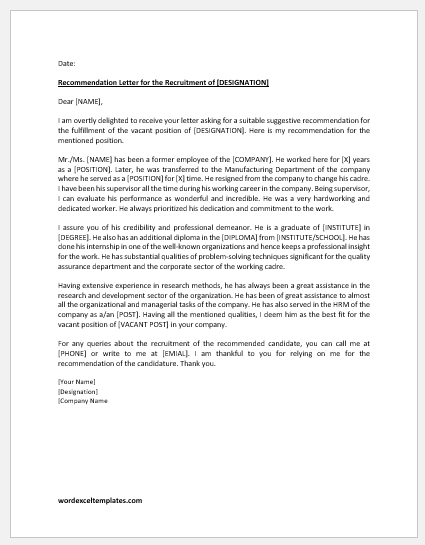 File: Word (.docx) 2007+ and iPad
Size 17 KB