To survive in the industry, every industry is required to launch new products after a regular period. To increase the sale of that product, the company has to do marketing in various forms. One of the best to market a product is to write a letter and email to people and let them know about a new release of the brand.
What is a new product launch announcement letter?
This is a sort of written communication in which a company announces the launch of a new product to its clients. After this letter, people come to know about the upcoming product of the company. The basic objective of this letter is to develop excitement among people about the product.
When to write a letter about the new product release?
Any brand wanting to write this letter is not always required to manufacture a whole new product. Different situations entail writing about the new product. Some of them are:
When a company releases a completely new product with new features
When new features have been loaded into an old product or a new product is going to be launched similar to the prior product and with some additional features
There is a lot of hard work and utilization of resources on a company's part when it manufactures a product and then launches it in the market.  So, inefficiently writing the letter might bring the efforts of the company back to square one. When you do the marketing of the newly released product via letter, do it with passion and energy.
Get your customer excited:
You are about to launch a new product but what is the point of launching a new product when no one is up for grabs? Just understand that the basic purpose of your letter is to excite people so that they anxiously wait for the product launch. You can also tease them by not revealing what is going to be released.
Add eye-catching pictures of the product:
The product that is close to its launch should be the center of attention in the market. For this, try to lure people with its tempting and attractive pictures. If you have a look at the product launch emails and letters of big brands, all of them use images to convey their message.
Let them know what is coming soon:
Make your customers know what you are going to launch in the market soon. If this product has a connection with the previously launched products of the same brand, discuss it in the letter.
Shed light on some of the key features of the product that previous products lack. Also, discuss those features that people loved in prior items. Make sure that you write this section of the letter with more care because it is the most important section and it gains attention usually.
Mention the release date of the product:
Finally, the wait is over. The customers might be thinking as to when the product is going to be available for grabs. Mention the date on which you will launch the product. if there is a special event for launch, name it.
Read the sample given below that will help you write a letter to your customers when you launch your new product.
Sample letter:
Date:
Subject: An important announcement
Dear customer,
Due to the overwhelming response from our customers after the release of our hydra boost whitening cream, we are glad to announce that we have launched our new product of hydra boost whitening series. Hydra boost night cream is going to be launched by the end of this month. It has advanced whitening agent Arbutin and a rich quantity of collagen to fight off all the aging effects on the skin leaving your skin look more youthful and glowing.
Hydra boost night moisturizer and whitening cream is a 2 in 1 product that is capable of handling your all skin problems. Clear Skin is going to launch the product on 15th Oct. Get ready for grabs and feed your skin with this daily dose of moisturizer and collagen.
Regards,
Name of the sender
Signatures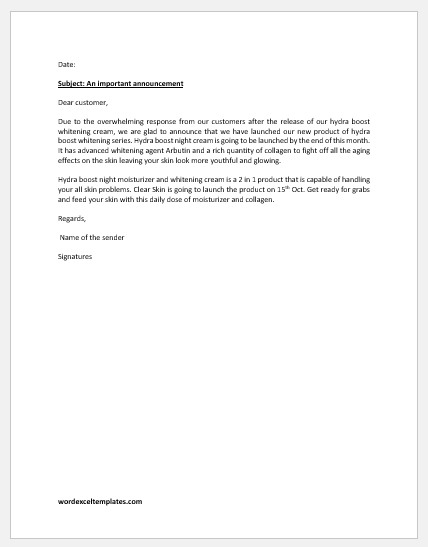 File: Word (.docx) 2007+ and iPad
Size 18 KB