What is a quotation letter for legal services?
It is a formal letter in which the person who provides the legal services gives the quote. In this letter, the sender mentions the charges on which the services are provided. People who write this quotation letter want to ensure that the reader understands it well. So, they tailor their letter to meet the requirements of the reader.
When to write the legal services quotation letter?
People who want to get legal service but have a limited budget often ask the service providers to come forward and mention how much they charge. Many other details are mentioned in this letter. For example, the person who quotes the price of his services also tells all the terms and conditions under which he is ready to provide his services.
What is the purpose of the quotation letter?
When a service provider writes a quotation letter, he is very clear about the charges of his services. He intended to inform the targeted person about the charges so that the person should be clear as to what he should expect from him. Some legal service providers also mention how they stand out to prove that the fee they charge makes sense.
What is the benefit of writing the quotation letter by a law firm?
There are many benefits of writing this letter. Some of these are:
It shows professionalism:
The law firm that first gives quotation demonstrates that it does not want to mislead its prospective clients and wants to be clear at every stage of dealing with them. People get peace of mind when they deal with the firm after they have come to know the rates at which they will work.
It lets customers know their budget:
People often don't pay attention to their budget when they look for a law firm as they underestimate this factor. However, when they receive a quotation, it becomes clear to them that the budget is important and they should not ignore this factor. In addition, people who have set the budget also know when to adjust it and how much they can.
It gives information to clients:
A law firm gives a quotation in order to let the clients know whether it is affordable for them to take services from that firm or not. This way, both parties remain clear as to what they are settling at and what services are expected.
It can be used as evidence in different scenarios:
In some cases, the clients require their paid money to be reimbursed. They need to show the quotation letter to see how much they have been charged and what are the terms and conditions regarding applying for reimbursement.
Sample quotation letter for legal services:
Date:
To:
Address
Subject: Sample quotation letter
Respected sir,
I hope this letter finds you in good health. I have to appreciate the fact that you have a professional approach towards your business and you are keen to protect the legal rights of your firm. We have worked with so many businesses in the past and provided our valuable legal services to them.
When it comes to legal matters, people are often seen showing concerns. It is natural to be worried concerning our competency when we show our willingness to offer our services to you. However, we assure you that nothing will go wrong and you will see the best results as our qualified team is experienced enough to handle all the legal affairs with adroitness.
The charges of our services vary from service to service. However, we often charge 1000$ each month for handling day-to-day legal matters. Our well-qualified team members are adept at dealing with personal matters of individuals also. We believe that we are competent enough to take full care of your business in all situations. We have a strong ability to listen to the problems of our clients and understand them well.
If you are interested to render our services and want to negotiate with us, you can contact us on our office phone number or email address. We will look forward to your response.
Regards
Name of the sender
Signatures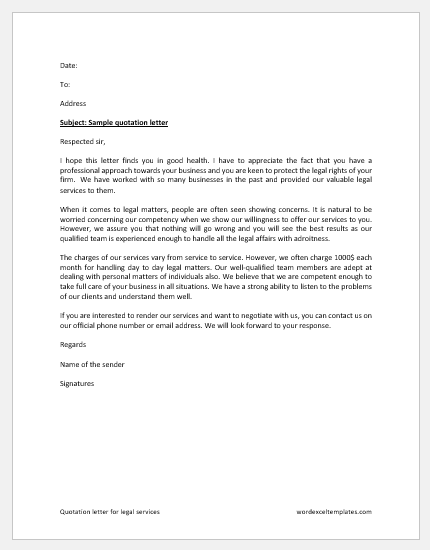 File: Word (.docx)
Size 12 KB