Working in an organization, you may have often come across a slip addressed directly to an employee indicating their salary and allowances for a particular month. This slip is known as a payslip. Payslips are issued every month and to every employee.
A payslip is a statement showing how much an employee earned in a gross amount less the deductions for Special funds such as providence and pension funds. Payslips are commonly used in organizations big or small.
In older days, payslips were printed and given to employees as hardcopy. This practice is still common in some organizations. Many organizations also choose to email the payslips to employees.
Online portal for payslips…
Large organizations usually have online portals for their employees to manage their profiles, file online applications, and manage other administrative duties. These organizations also use the employees' portal to upload payslips. So, each employee can log in to the portal and access their payslip online. Uploading on the online portal saves considerable paper and expense.
Associated benefits of generating payslips…
There are several benefits of payslips. Payslips are a way of communication about the salary between the organization and its employees and it works to effectively minimize any misunderstandings. Payslips can also prove helpful during external and internal account audits. Payslips are useful in comparing discrepancies that may arise when calculating provident or pension funds.
Payslip is a unique document…
Every organization, big or small, issues payslips to its employees. A payslip is a statement of income and deductions for a particular employee. Each payslip is unique to a particular employee with their name on it. The payslip for one employee cannot be given to another since it is addressed to the employee with his/her name and employee ID.
Payslip and payroll…
Payslip and payroll both refer to two separate concepts. A payslip shows the salary and deductions for a particular employee only. On the other hand, payroll is the list of all the employees working in an organization. The payroll not only lists the employees but also their salaries, bonuses, and any taxes withheld. Thus, the payroll is the total amount of salaries paid by an organization, and a payslip is for an individual employee.
A payslip is a breakdown of the salary…
In terms of importance, a payslip is important for the employee, so they are aware of the breakdown of their salary. Similarly, the payroll is critical for the HR department in the organization since any discrepancy in the payroll may cost the organization a huge loss. It is the responsibility of the HR department to ensure that the payroll is accurate and timely.
Weekly, bimonthly or monthly payslips…
Both payroll and pay slips are generated at regular intervals. These intervals can be weekly, bi-monthly, or monthly. The most common duration is monthly.
A payslip generally includes:
name of the organization
name of the employee
employee ID
gross salary for the month
any allowances such as housing, travel, or communication allowance
bonuses if applicable
deductions for providence fund, pension funds
taxes withheld
net salary
Payslip includes the history of payment…
A payslip may also include the past few month's histories of gross and net income. The net salary is the take-home salary that the employee can spend.
A payslip is an internal, yet binding document issued by an organization. If someone wants to apply for a loan or credit card, they can use previous payslips as proof of salary. Moreover, by law, every organization must provide payslips to all its employees every time a payment is made to the employees. Thus, an organization that pays bi-monthly, must provide bi-monthly payslips. Thus, a payslip is a legal document.
See the templates below.
Weekly Payslip template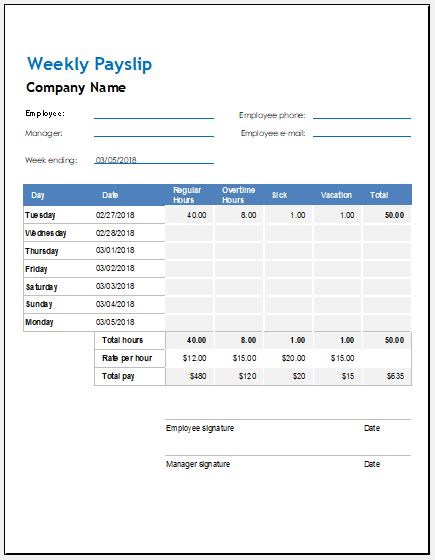 MS Excel [.xls] | Download
Biweekly Payslip Template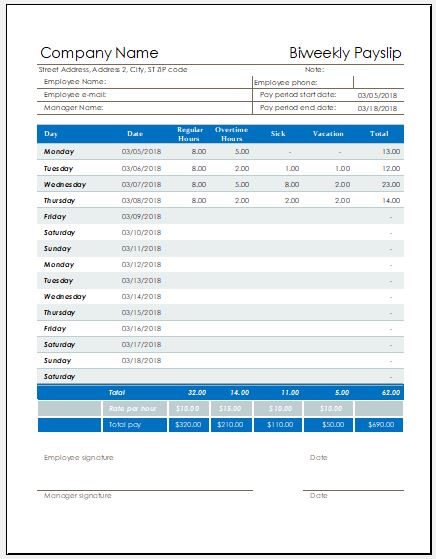 MS Excel [.xls] | Download