A payroll is a most frequently used document due to which it has a lot of importance. A payroll document includes the details of the person for whom it is created, including the name, salary, date of issuance, and a lot more. Due to all these details, the payroll is deemed as very important.
In general, the payroll provides the details about the salary an employee gets each month by working in the company. The details regarding the increment, bonus, discounts, deductions from the salary and a lot more are also mentioned in the payroll.
Sometimes, the employee faces a problem like a problem in the payroll. Sometimes, a company encounters the problem in the database due to which the wrong details in the payroll are mentioned. When the employee wants these incorrect details to be corrected, he is required to use the payroll correction form.
What is payroll correction form?
The payroll correction form is a document that is used by the employee when he wants several corrections to be made in the payroll. Using the payroll correction form enables the employee to get the payroll corrected in an organized manner.
When should the payroll correction form use?
An employee can use the payroll correction form when he finds out any mistake in the payroll. The mistake in the payroll can be based on incorrect calculations or associated with typing.
A payroll correction form is also used when irregularities in the payroll form are seen. If there is an unnecessary deduction from the salary, the correction form is used to get it corrected.
In other words, the payroll correction form is a type of request form through which the employee submits the request to review the payroll to check if there is any mistake. it is a formal way to inform the employer about the mistake that you have seen in the payroll.  
What should be included in the payroll correction form?
A payroll correction form includes the following details:
Name and other details of the employee who has been issued the payroll
Mention the department in which the employee works
The details of correction that employee wants to be done in the payroll
The amount of pay that needs to be changed
The details about the correction
Signatures of the employee
The template:
The payroll correction form provides a pre-designed correction form that does not require the user to put the effort in designing the form from scratch. In this way, the template saves the time and energy of the user. The best feature of the template is that it is very easy to customize due to which the user can bring modifications to the template according to his needs.
The form is prepared in MS Word format. There are also many other formats in which the correction form can be created. These templates have all the details already mentioned in them. The user is just needed to fill the required fields and then submit the form.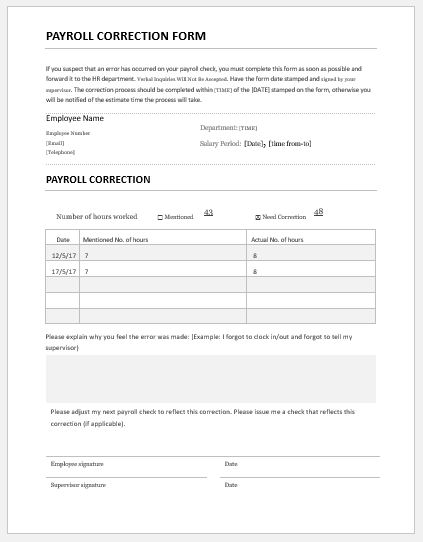 File: Word (.docx) 2007+ and iPad Size 52 Kb |
Download
---