An organization holds its employees as its key resources to development. The more productive relation you share, the more performance increase you monitor. Working together in a healthy environment proves well for the employee as well as the employer. Sometimes there comes a time when circumstances make it difficult both for the employee and the employer to work together. A number of reasons contribute to this situation when working together seems impossible. An employer may make his employee not come to the office because of:
Increase in Expense: When an organization consistently monitors its expenses to be higher than its income, it may feel the need of keeping key employees at work while letting others to stay at home. And when the situation gets controlled, they may call their employees back to the office
No profit generated: If an organization observes that enough profits have not been generated as expected for more than one period of time, it may send some of its employees back home while letting some employees work so as to run the business with a few key workers. Keeping in mind that when the current situation is controlled, it may call its employees back to work.
Pandemic:  a pandemic is a situation where letting all your staff working together may lead to severe problems at work. In order to control the spread of the pandemic, it becomes necessary for the employer to send its employees home so as to not cause any problem in the workplace and when the situation gets better, they may call them back to work.
It is important to note here that employees and employers both are responsible for the smooth running of the organization and when drafting a letter to your employees to come back at work, one's tone should be friendly and welcoming. This makes your employee feel encouraged to come back to work.
You must state clearly the reason for making the employee stay at home and not come to work. Further, you should state that now as the situation is under control, you welcome your employee back at work. Also, you should be thankful to your employee for his support and co-operation throughout the period in which he/she was unable to come to work.
How to write the letter
The address of the employer should be written at the topmost left corner with his designation.
The address with the designation of the employee should be mentioned beneath the employer's address and designation.
The date on which the letter is drafted should be mentioned.
Salutation: start the letter with a proper salutation like Dear Sir/ Madam.
End: End the letter on a positive note. Welcome your employee back to work.
Signatures: Leave a space at the left-hand side at the bottom for signatory purposes.
Sample letter
Mr. Fill
CEO
ABC International
Mr. David
Manager
ABC International
Dated: 16 July, 20XX
Subject: Letter to staff to return to work
Dear David,
Due to the pandemic in the whole world, we like any other organization had to at one point sent its employee home as the situation was getting worse day by day. Coronavirus has disturbed the lives of everyone. You are very much aware that if we had all of you to come to work, it may have caused innumerable problems for all of us. For this reason, we had said all our employees to stay at home.
Your co-operation and support throughout this period are commendable. We have always worked as a team and now it is time that we again work together as a team. As you know that coronavirus is under control now, I welcome you back to work so that we may work with the same zest and enthusiasm as before.
You may join us next week. The same timings should be followed as before. See you at work once again. Best of luck.
Yours Sincerely,
Mr. Fill
CEO
ABC International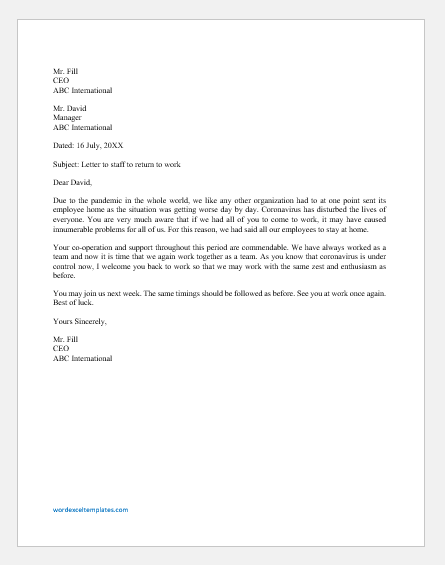 File: Word (.docx) 2007+ and iPad
Size 18 Kb
Download
---