There are many reasons for writing to the HR department. The HR department is responsible for handling all employee-related queries, complaints, and issues. An employee's performance, evaluation, and salary related matters are also handled by the HR department. Thus, when employees face any issue, they are encouraged to write to the HR department.
There are innumerable reasons to approach the HR department such as:
You want to apply for a leave or annual holidays
You want to file a medical claim
You want to report a conflict or harassment
You want to inquire about your promotion
You want to report your dissatisfaction with the environment, salary, culture, or any other issue
You want to inquire about an increase in salary
You want to report a security hazard
You need to answer a query put forward by the HR department
There are many other issues in which you may need assistance from the HR department. Suppose your organization pays the salary on 1st of every month but this month you did not receive last month's salary due to some reason or mismanagement. It may be because the HR missed your name by mistake.
Another reason could be that your salary is disputed and therefore the transfer was put on hold. Perhaps your salary was pending the approval of your supervisor and he/she forgot to sign.
Alternatively, it may be the case that this month you received an amount that is higher than your salary. Or perhaps you were due to receive a special bonus, or a project share this month, but it did not reflect in the amount transferred in your account. All these matters can be discussed with the HR department either in person or by email.
In such scenarios, you may wait for 2-3 days to see if the matter is sorted out on its own. If, however, it has been more than that and the issue persists, there is no embarrassment in writing to the HR department.
You can write a polite email to the HR department and request for an explanation or give a reminder to process your salary for the previous month.
Sample letter
Subject:                               Request for transfer of salary for the month of July, 20xx
Dear Mr. Mathews,
I am writing to bring to your notice that my salary for last month is still outstanding. I had been waiting the entire past week to see if my account balance starts reflecting the salary, but there has been no change till yet. I checked with my colleagues and all seem to have received their remuneration. Therefore, I am writing to inquire whether there has been a mistake or there is an issue with the payment.
I would appreciate if you could kindly check the status of my salary and update me. If there is any discrepancy or issue that requires my assistance, please let me know.
Look forward to your reply.
Sincerely,
Antonio Marcus
Preview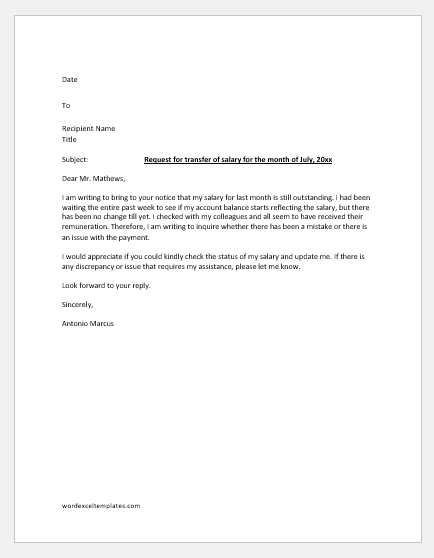 MS Word [.docx] | Download