Vendor management is a difficult task especially when your business is extended to different cities. Almost every organization has to manage its suppliers and this process is known as vendor management. There are lots of activities associated with this process that has to be undertaken. This process is important because it allows a business to never let the supplier go who supplies good products.
In addition, negotiating with them at different levels, keeping them updated and lots of other things are also done to ensure that the relationship between a business and its suppliers is strong and professional. One of the finest ways to handle the suppliers is to write a letter to them.
What is a letter informing the seller to continue his services?
A business often writes a formal letter to sellers of its products to inform them about certain things. This letter also informs the sellers that they are required to continue the supply of items the business has been purchasing from them.
When to write?
Below are some situations:
When your seller is waiting for a green signal from you to continue the supply
When you had asked the seller to wait for your response so that you can test the products you have purchased and now you are satisfied with the items
When you are not regularly purchasing items from the seller and now seller does not send you merchandise unless you ask him to
Why it is important to write?
It is evident that if you don't write this letter to the supplier, the dealer will not supply you with the products. This will impede the regular working of your company. Therefore, you are required to write this letter a considerable time before your company runs out of the commodity supplied by the dealer
You are likely to lose your customers if your store runs out of stock this happens mainly because you did not inform your dealer to keep supplying the merchandise.
How to write?
Understand the situation:
Since there are many situations in which you can choose to write this letter, the content of the letter may vary depending on the situation. Before you start writing this, it is essential to get a complete understanding of what you are writing and why. After you have got the familiarity with the situation, you can write this letter effectively.
Inform the dealer:
Come straight to the point and inform the dealer that he is required to show a continuation of his work for your company. Ask him to keep supplying the products and if you have a reason for it or if you think that this letter can surprise the vendor, give the explanation of why you have written this letter.
Appreciate the dealer:
Sometimes, you ask the supplier to keep providing his services because you want to appreciate him for the work he has done. if this is the reason, you should appreciate the supplier and tell him that you are satisfied with the products he has been sending.
Keep the letter short:
Your letter should never belong because when you write to the vendor, you don't need to add unnecessary details. Moreover, if there is so much to write, it is better to arrange a meeting with the manufacturer and ask him to meet you.
Template:
The template is a sample letter which is a useful tool that allows people to draft a letter for their use. Its lets the people know about the perfect use of the language, about adding the required details, and much more. A template of the letter written to the manufacturer is given below.
Sample letter:
Respected supplier,
We are glad to have contacted you with regard to the supply of high-quality products from your side. Our company understands the fundamental role of vendors in making us successful. You have always been so candid and made us believe that your transparency is what our company needs.
Your fair and honest dealings with our company are our assets and we would like to ask you to keep continue your supply. Should you want to know anything else, feel free to contact us.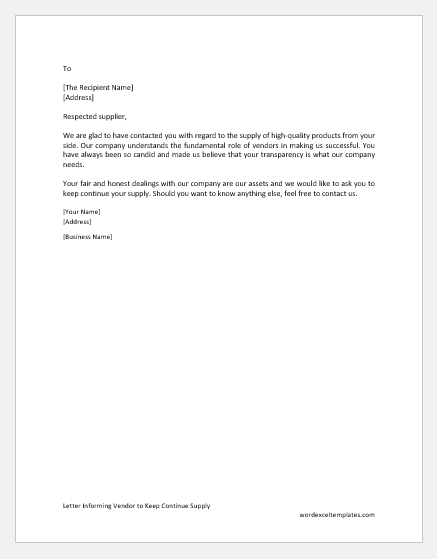 File: Word (.docx)
Size 22 KB
See also: