An employee writes a letter for reimbursement of wife's delivery to the company he works for to request for the expenses spent at wife's delivery. Almost all the leading companies and organizations facilitate their employees with different kinds of benefits with medical insurance and conveyance stipends being the major ones. These terms and perks of employment are decided at the time of signing the official contract with mutual agreement.
If your company has not provided you with the medical insurance for you and your family, you can still request for reimbursement from your Employer. In case your company's policies are lenient enough, and the accounts office approves for going out of the way for employees with no medical benefits, your application would be approved. Nonetheless, it will not be your right as you are not officially entitled to it. Henceforth, one should always try to bargain as many perks as one can at the time of negotiations.
While writing your application/letter for the reimbursement for the wife's delivery, you must keep your tone polite, although you are entitled to it. However, begging is also not appreciated in healthy professional environments.
Start the letter with your introduction. You can also mention your contractual right of claiming medical insurance for your family. Write down your wife's delivery date and the amount you had to pay on all the things.
Don't write the total amount with no mention of how and where it was spent on. Do mention the details of expenditure, i.e., how much money is spent on medication of the mother and child, the hospital charges, etc. separately to make it easier and more authentic for your Employer.
Enclose the copies of all of the invoices within the application.
Read the following draft to help yourself with crafting one. You may change the details as per the demand of your conditions.
Sample Letter
[Employer's name]
[Employer designation]
[Company Name]
[Date]
Subject: Reimbursement of wife's delivery
Dear sir,
I, Daniel Greg from the HR department, is your employee from the last 2-years. According to my contract, I have the right to claim reimbursement for my family's medical expenses, and I believe now is the time for it.
My wife delivered our baby only 7-days ago on Monday [mention the full date here] at the St. Joseph Hospital [mention the hospital's name and the city it is in]. She had to undergo c-section as our baby's condition was critical. The baby and mother received exceptional care and medication as he had to spend a few days in Intense Care which cost me a massive fortune as I could not get my medical insurance benefits beforehand.
Now, I would like to get it as per it is mentioned in my contract. I request you to approve my application and release the funds as early as you can.
I have enclosed all the invoices herewith.
Sincerely,
Daniel Greg
HR Department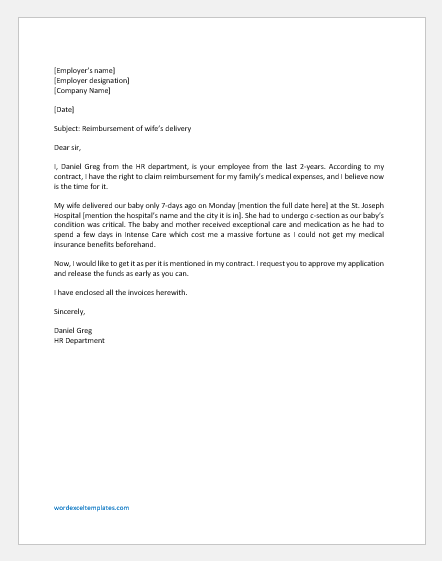 File: Word (.docx) 2007+ and iPad
Size 19 Kb
Download
---