An internship is a good opportunity for students who want to gain practical experience in the area they have got knowledge about. When someone gains experience of working on any post through an internship program, their efforts should be validated by issuing them the experience certificate or experience letter. This letter serves as proof that the internet has got the experience and therefore, he is ready to become a part of the industry.
What is an internship experience request letter?
When a student has completed an internship in a particular company and wants to get an experience letter from that company, he will be required to write a request letter to the manager asking him to issue the experience letter.
What is the purpose of the request letter written for getting internship program experience?
Students are generally at the entry-level of their career. They have to get the experience of working in their respective field so that they can avail those job opportunities that require them to be well-versed with the work they have learned to do.
This letter also helps them prove that they have got mentorship from someone for a certain period and have set their career goals. Students also need a prior work certificate because they have to create a strong resume before they make an entry into their chosen industry.
A step-by-step guide for writing the appeal letter:
If you don't know how to draft a letter in which you can formally put forward a request, the following is a step-by-step guide to help you get started.
Get the format
Since your letter is being written in a professional setting, you should make sure that it has the correct format to follow. For this purpose, you should learn how the professional request letter format is like. There are also many templates available on various websites that can help you learn about the format.
Know who you should write to:
When it comes to requesting the experience letter, the first question that pops up in everyone's mind is who they should address. You should also raise this question and then find a suitable answer. The request can be made to the head of the department in which you have completed your internship, manager of the company, and in some cases, the company's CEO.
Provide details of your internship program:
The company should be provided with details of the work program that you have completed. For instance, you should tell the recipient about your name, your internship enrolment details, the department in which you have completed the internship, the duration of the program, skills you have learned, name of the person under whose supervision you have worked, and much more. In case you have some details specific to your case, mention those details also.
Put forward the request:
After having provided all the information, the next step is to request the recipient to issue you the experience letter.
Thank the reader in advance:
Your letter should be ended on a positive note. For this, you should thank the reader in advance. Also, show thankfulness for providing you with the opportunity to work in his company as an internee.
Tips to follow:
Remain specific:
The request letter doesn't include some details. It only lets the reader know that you are requesting a particular document. So, it is required that you remain specific and to the point.
Proofread it well:
Before you send the letter to the intended reader, it is important to make sure that your letter is free from various spellings mistakes. Furthermore, the information you are providing regarding your internship program will be reflected in the experience letter. Therefore, you must double-check the information you have mentioned in the letter.
Remain truthful:
Don't assume that the person you are writing to doesn't have your details saved in his record file and you are providing details only for confirmation and validation. Therefore, make sure whatever information you provide regarding the program is based on facts and figures and you don't try to mislead the reader in an attempt to get a certificate that will help you to grow your career.
Sample Letter
(Date)
(Recipient's Name)
(Recipient's Address)
(Physical Address, City, Zip Code)
Subject: Request for Internship Experience Certificate
Dear (Mr./Mrs./Ms. Last Name),
I would like to let you know that I have worked in (company name) as an intern from (start date) to (end-date). I was working in the (department name) under (supervisor's name).
It has been a wonderful experience working in your prestigious company. I have learned many skills which I am sure will help me with my professional growth. These skills have increased the value of my profile.
I am writing this letter to request you provide me with an internship completion certificate. It will help me in my future career aims.
I hope to hear from you.
Sincerely,
(Your Name)
(Contact Details)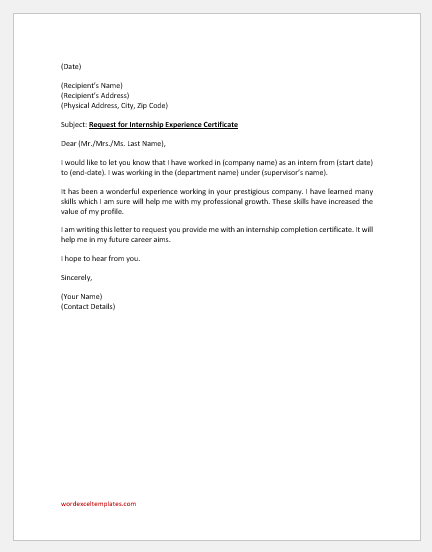 File: Word (.docx) 2007+ and iPad
Size 18 Kb
Download
---