People often feel the need to quit their job when they have to face such circumstances in their life which are completely unsuitable for them. Sometimes, they resign from their job with notice and sometimes they quit without giving any time to their employer to find a replacement. Although this puts their employer in a difficult situation, sometimes, the employee has no other choice.
What is an immediate resignation letter for personal reasons?
This is a letter in which the worker conveys his decision to leave the job because of some very personal reasons. In this letter, the worker tells the boss that he cannot stay in the company any longer and wants to leave immediately.
When to write?
Some situations necessitate the worker to leave the job instantly. For instance, the sudden decline in the health of the person can compel him to get admitted to the hospital for treatment immediately and he writes to resign immediately. In some cases, the employee finds a better job and the new employer asks him to join the company right away. The employee then leaves the company immediately with a resignation letter.
What should be done before writing the instant resignation?
An agreement of employment does not bind any worker to stay in the company. However, it expects them to be responsible enough to not leave the company unless they give prior notification of a considerable time in which their boss can find their replacement and train it.
However, if the employee has to leave without giving any time, he or she should meet with the manager or the boss in person and discuss the matter in detail. Meeting face to face resolves many issues and gives time to the boss to understand the position of the employee. The boss might also release the salary and past dues of the employee if the reason for the worker quitting the job makes sense to him.
What are some basic guidelines to follow?
If you can add details appropriately to the letter, you can let your boss know your position clearly without annoying him or making him angry. Although this is challenging, you can do it by following some tips given below:
Always start with your decision
Don't waste the time of your boss and tell him about your decision as soon as you start the letter. There is no need to beat around the bush and tell him clearly that you are resigning without giving any notice. Let him know that you have some personal reasons to do that.
Don't give justification
You don't need to communicate to tell your boss that you think whatever you have decided to do is right because your reason to leave is genuine. You should sound apologetic when you write this letter. In addition to it, show regrets on leaving the job like this.
Say thank you to your boss
Although you know that your letter might drive your boss up the wall, don't forget to say thank you as it might calm him down. You should show gratitude also because you should sound positive and professional.
Provide your contact details
In the end, give your contact details where the boss can contact you and talk to you for further discussion.
If you don't know how to write this letter, read the sample given below.
Sample:
Subject: Immediate resignation due to personal reason
Dear Mr. (mention the name of the manager),
With deep regret, I would like to let you know that I have decided to quit my job right away. Please accept my resignation from the position of teacher in ABC School due to some personal reasons. I know that quitting a job like this is considered a serious infraction as per the employment contract I signed with the company. Still, I am compelled to take this decision since I am working through some unforeseen circumstances.
I hope that you will understand my situation and you will clear my dues as per the employment contract. If you want to meet me in person and discuss the matter, you can feel free to contact me.
I would like to say thanks to you for providing me with all the opportunities that have shaped my career and have given me so much insight into things that I feel that my experience will count no matter where I go and work. Furthermore, I will never forget the way you have guided me and helped me at every phase.
Please let me know if you to ask anything or if there is anything I can help you with.
Sincerely,
Signatures of the sender
_____________________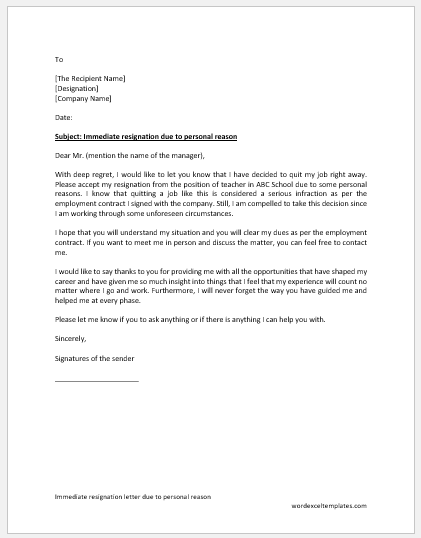 File: Word (.docx) 2007+ and iPad
Size 23 KB