A promissory note is a document that is used in professional life when a transaction between two people takes place. It is a signed document that is used to keep a record of the transaction. 
In the promissory note, one party promises to pay the specified amount to the other party. This amount is usually pre-determined and it is mentioned in the promissory note after the settlement between two parties. Whatever is mentioned in the note is mentioned after the discussion between two parties and there is nothing in this document that is written before the consent of either party. 
Why it is important to use a promissory note?
In the business world, everyone has trust issues. People who are asked to pay the money to someone as a loan or sell something on credit, generally have trust issues. They have insecurities that they might not get paid on time or the other party might refuse to pay. Therefore, they use a promissory note to protect their money. Debtors also like to use this note when they want to make the other party believe that they are trustworthy and it is safe to have a business relationship with them. 
What are the benefits of the promissory note?
Here are a few benefits to know if you are planning to draft a promissory note.
It keeps everyone on the same page:
A promissory note is a promise from one side and acknowledgment of that promise from the other side. This way, both parties are on the same page. Whenever this note is used, what both parties agreed upon in the past can be seen clearly. 
It helps in financing:
People who are going through financial setbacks and need to get financing from unofficial sources can use the promissory note. Getting loans from any official source such as a bank is safe and easy as they are registered and they also keep every type of documentation in check. The problem arises when you are not eligible to get loans from banks and you have to seek help from non-banking resources. 
It acts as legally binding:
A promissory note plays a key role in binding two or more parties together whenever a transaction is carried out between them. This way, all the involved parties are required to act according to the way they have been asked to act in the binding agreement. Every agreement has some terms and conditions that every participant has to agree on. All the members of the agreement have peace of mind because they know that the legally binding agreement has been established that will take care of the rights of everyone.
It makes the transaction clear:
Everything regarding a transaction between two parties should be transparent so that disputes can arise in the future. The promissory note will not be able to serve its purpose if it is not written in such a way that it can clearly state the details of the transaction. A promissory note generally outlines the details such as the total amount paid, total interest rate, payment charges, and much more. This way, the promissory note plays a critical role in avoiding any type of misunderstanding.
It aids in record-keeping:
Record-keeping is an essential part of a business relationship. The record of the transfer of money from one account to another account, deductions from the amount transferred, type of charge imposed on the payment, and all other details can be obtained from the promissory note which can then be used to perform the accounting tasks of various types.
It assists in building trust:
On a promissory note, each party promises to show honesty till the end of the business relationship. Due to this, each party starts to trust the other party more. So, when there is a lack of trust because two persons or parties don't know each other, a promissory note can be used to establish the foundation of a business relationship that is based on trust.
Promissory note template:
A template available in the editable form can be used to design a promissory note without any hassle. Since a promissory note is used by people with a professional approach, using a template enables a party to show professionalism through the use of a promissory note.
Preview and Details of Template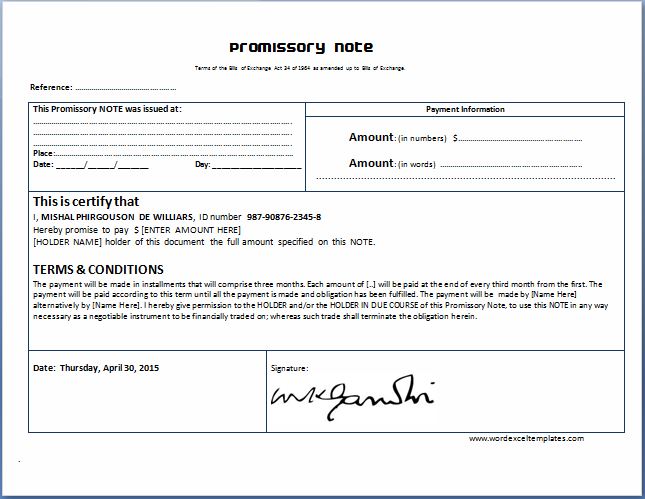 File: Word (.doc) 2003+ and iPad 
Size 98 Kb