The form used to propose the finances to your clients and customers is known as financial proposal form. The financial proposal form is about finance-related terms and processes. The requirements of a business can be known if you are using this form. There can be many reasons for which you may want to use a financial proposal form. The template for this form is available on this website that can be used for free.
When to use the financial proposal form template?
The businesses can use these templates to manage the finances. If the company is large, then there will be lots of details regarding the finance which will be required to arrange and manage the finance.
To manage the finances of the investors or creating a proposal for investors to invest in your business
You can get the information about the status of your business and helps you understand the need to send financial proposals.
The investor is required to know everything about your business in detail so that he can take interest in your proposal. The form should provide all the information needed by the investor.
We have a collection of professionally written and well-designed financial proposal templates on this website. You can choose any template of your choice and start working with it.
These templates are completely customizable because of which you can make the template in accordance with the needs and requirements of your business.
Main elements of the proposal form:
The name of bidder
The address of bidder
Telephone number
Fax number
Tender amount
Closing date of the proposal
The main purpose of using this form is to capture the attention of the investor. If you have not prepared the proposal in the right way, you will not be able to get the financial aid that you are expecting. Therefore, the proposal has to be written professionally.
Those people who are not aware of the professional proposals format can download the template from here for free.
Preview and Details of Template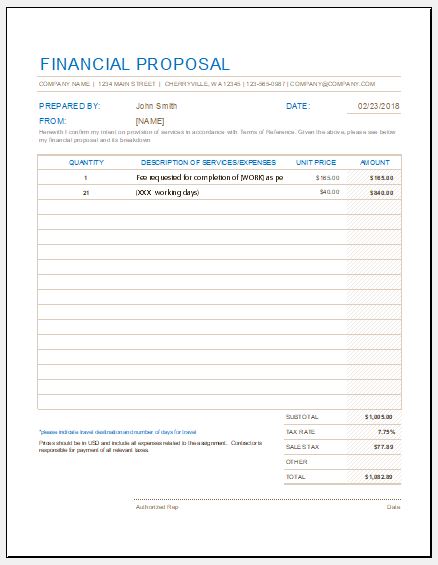 Financial Proposal Form Template
File: Excel (.xlsx) 2007+ and iPad 
Size 35 Kb   | Download