Shifting houses is no simple task. If you rent a place then you may need to shift often. There are many things to consider so that the transition can be smooth. You will need to have time to do this so no mistake happens. Therefore, you will have to be absent from work.
What is an excuse letter for house shifting?
An excuse letter is a formal letter that informs a boss that an employee will not be able to attend work from a certain date to a certain date. Reasons are given for this like in this case the reason is that the employee needs to shift houses.
Importance of an excuse letter
An excuse letter is important because it is proof that the employee told the employer that they will not be able to go to work. This letter shows that the employee cares about their work and so told the boss that they need to be absent because of house shifting.
Tips to create the excuse letter
When shifting houses, you will be busy, but do not forget to tell your boss that you will need time off work. Keep the below points in mind when making this letter:
Know the company's policies: Know beforehand what the company needs when someone requires leave from work. Know if they allow you to be absent from work because of house shifting. You should find out if your boss will need a hardcopy letter or whether you can send an email.
Professional and formal letter: An excuse letter is a professional letter and you need to remember this. Therefore, do not add any unnecessary details in the letter. Simply tell the employer that you need to be off work because you are shifting, and this takes time.
Be polite: Apologize for this absence and say that you will be able to do any task that can be done from home. Tell that you will make up for any loss.
Any letter like an excuse letter that is for work should be composed with care as your absence from work can impact the company or place you work at.
Sample Letter
Benjamin Lucas
296 Viking Drive, Chillicothe 45601
Ohio, Unites States 
17th April 20XX
Jess Wasem, the Manager
AMELIA Group of Companies
Tokyo Heights, Chillicothe 234-J
Ohio, United States 
Re. Excuse for Being Absent from Work due to House Shifting
Dear Wasem,
It is stated that I am an APL from the Department of Design and Distributions in your company. I have been living in the countryside for five years of my migration to the United States. I am living in an area where accommodation is spatial but it is a far-flung area and it takes too long to work and other places. Markets and other commercial places are also far from the area. My current accommodation makes my budget imbalance too because of the expenses of transportation.   
Due to the long distance from home, my punctuality at work is also being affected. You already know that punctuality has a very significant role in making good profiles. Keeping in view the circumstances, I have decided to move from this area and transfer to the city area. Luckily, I am informed by two or more Estate Agents of a few reasonable accommodations.
I know, CEO has ordered not to take any leaves for two weeks as the project manager is going through a crucial period of time but Wasem, if I don't take this opportunity, finding a reasonable accommodation will become an uphill task for me and you know it is not easy getting inexpensive apartments here in the USA, as it always takes a very long time to find one.
So, I beseech for one day work from home leave and two days' full leave. I hope, considering the urgency and compulsion of the leaves, you will grant me a three days leave. I have updated the admin about preceding project tasks too so that no other problem related to work arise.
I am looking forward to your kind response.
Sincerely
(Signature)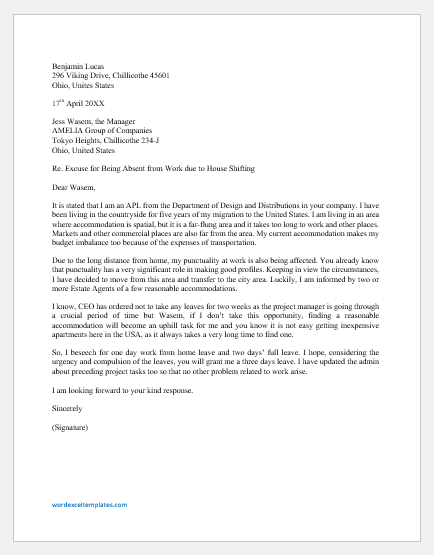 File: Word (.docx) 2007+ and iPad Size 21 Kb |
Download
---