Having a backache is tough. Sometimes one cannot even stand and walk due to this. If you have a severe backache then it is important to rest. You will need to get some holidays from work so that you can get better. An excuse letter for being absent will need to be submitted.
What is an excuse letter for absence due to backache?
The letter is a formal way to inform your employer that you have a backache and so cannot go to work. You need to give this letter so that your boss knows that you will not be present.
Importance of the letter
You are an important part of your office or company and the work you do contributes to the running of that institution. Therefore, if you are not able to attend, it is vital to tell your employer so that your tasks can be assigned accordingly and so that no disturbance occurs.
Tips to write excuse for backache:
When composing the excuse letter, you need to be formal and professional. There are some points that you can consider when writing this letter:
Choose the best application: Due to the fact that the letter is a professional one, you should not write it by hand. It needs to be typed. This can happen in Microsoft Word.
Find out if your excuse is valid: You need to know if your workplace allows the staff to be absent due to a backache. Find out how many days you are allowed to be absent.
Be precise: The employer does not have time to read a long story. Make the letter short and precise stating the reason why you want to be absent or are absent from work. Tell how your backache will not allow you to function effectively. Offer to provide help through email or to work more when you get better.
Any excuse letter must be professional and written according to the company's policy.
Sample Letter
Robert Jones
092671 GHQ Township
New York City, United States
The Admin
Recap Uiteal Softwares
R Block NEFF Square
New York, United States
Re. Excuse me from Work due to Back pain
Dear Sir,
This writing is aimed to convey to you my apologies for not being present at work from 20th April 20XX to 21st April 20XX. Recently, I was overworking for many days and I was giving extra time to the office. I am a consultant in your company and most of the working is done while sitting in one place. Maybe, due to long hours of working and sitting has resulted in severe backache.
I visited a doctor on Sunday who suggested me to go through X-Rays and all other compulsive tests for accurate and acute examination as backache is considered as a sensitive issue as it may lead to some grave or terrible issues. That is why I am gravely concerned and I want to go for the proper treatment.
I request you here to grant me two days' leave so that I may visit the lab for MRI and go through a proper examination. I need two days off from work to complete the process. I expect you to apprehend the issue and grant me leave for two days from 20th April 20XX to 21st April 20XX.
I shall be grateful to you
Sincerely
(Signature)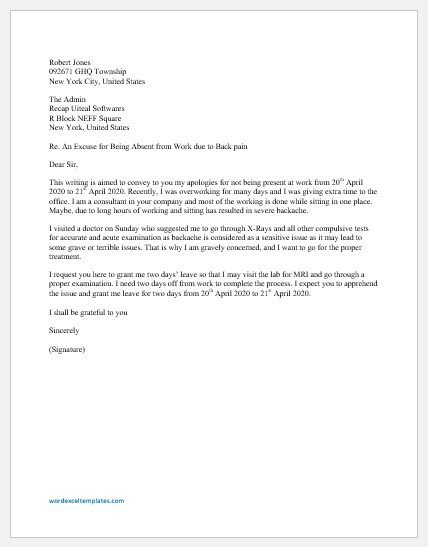 File: Word (.docx) 2007+ and iPad Size 20 Kb |
Download
---