Extracurricular or co-curricular activities are arranged by schools only to incite the spirit of purposeful recreations in young students' hearts and make them hale and hearty. This kind of motivation further helps them in crafting their individualities at their best and making them productive and healthy citizens. Alongside dozens of other perks, students not only get to make their beautiful everlasting memories with their friends but also learn new things in a fun way under the supervision of their experienced teachers.

When students realize they are expected of certain values while having fun and there's a designated time and decorum for it, they will remain productive. This could be a very passive way of teaching students' discipline and tame them.
A picnic party could also have some educational benefits for students. Such is the intention of a picnic party. Students are meant to make it on the day and enjoy the lunch provided by school alongside other entertaining pursuits. Hence, picnic events have gravity and solemnity in the eyes of the school administration, and they can be a lifetime learning and growing opportunity for individuals. 

Taking leave or being absent without any prior notice is not taken for granted by any institute. The school administration takes such events no less than an academic one in terms of its seriousness. Students who act irresponsibly or show carelessness are inquired in the administration office by the principal. In fact, in some educational institutions, extracurricular and co-curricular events have some weightage on the GPA too. 

In case you think you will not be able to make it to the event; you should send an excuse letter to your principal informing of your possible absence. You should craft this letter carefully, so it gets accepted. Below is the draft of an excuse letter for not attending the school picnic so you can have an idea. 
Sample Letter
To,
The Principal,
XYZ School,
[School Address]
Subject: Excuse letter for not attending the school picnic due to my health crisis
Sir/Madam,
I am writing this letter to you with embarrassment and guilt as I would not be able to attend the school picnic arranged on [DATE]. I am a student in grade 9 and my class in charge is Ms. ABC. 
Only yesterday my stomach started having cramps and I started throwing up quite badly. My parents took me to a nearby hospital and we found out that I am suffering from food poisoning. The doctor has asked me to be on a strict diet and avoid unnecessary activities because of the drowsiness I am having. I am advised to be on bed rest for three days. Given this prescription, I don't think it is in my best interest to be a part of the school picnic. 
I apologize to you for not being a part of this much-awaited fun activity. It will be kind of you to accept my excuse letter.
Your sincerely,
XYZ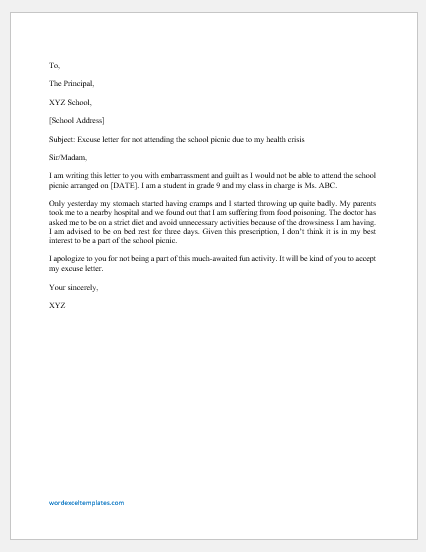 File: Word (.docx) 2007+ and iPad Size 22 Kb |
Download
---