Whether you are a student or an employee, you will always need an excuse letter at some point in life. The purpose of writing this letter is always to get away with the penalty or the punishment that one may have to suffer due to not attending an event.
What is an excuse letter for menstruation?
This is a letter often written by females when they are unable to be present somewhere due to their periods. The excuse letter tells the reader that the female writing this letter has a genuine reason to not be present.
What should a justification letter due to periods do?
There are many such situations when a person gives a justification for something that he has done but he was not at fault. Similar is a situation when a woman is bleeding and she is not feeling well due to which, she could not meet the expectations.
This letter should use the reason for menstruation as a concrete reason for a woman to be unavailable at the workplace or in the classroom. This letter also serves as an apology from the sender as her absence might cause inconvenience to those who were waiting for her.
When to write?
Generally, females don't need to talk about menstruation and the tough time they face when they have something very critical to do and they have to carry themselves with periods. However, some situations necessitate providing this reason. Some of them are:
When a student fails to attend the meeting with the supervisor when the meeting was scheduled on a particular day, but the student got periods out of the blue
When a female employee had to attend a meeting with the manager, but she was feeling sick due to being on periods
When a female worker does not come to work without sending any leave application beforehand and the boss wants to know the reason for this uninformed absence 
The person who had a scheduled appointment with the doctor, lawyer, or any professional but could not make it to the appointment
Sometimes, females also write the justification letter when they remain absent because of some personal reasons but use their menstruation as an excuse.
How to draft?
Writing an excuse letter is a tough job because the person making the excuse wants to ensure that he does not give an impression to the reader that he is giving a lame explanation. In some cases, the person who is the recipient of this letter is angry, and therefore, care needs to be taken to ensure that things don't go wrong. Here are a few tips to follow:
Read the policies of the company:
Every organization has its unique way to deal with excuses. So, you must know what you might have to face after writing this letter and what is a proper procedure that you should follow to prove that you really care for your job duties, and you don't act carelessly.
State your reason in plain and simple words:
Since you are writing an explanation letter, don't forget to provide the reason. Also, the reason should be in straight and simple words without any drama because it might make the reader feel that you are being dishonest.
Express your feelings:
Let the manager know that you are not feeling good about being absent due to periods. In the end, show gratitude to the employer he has allowed to stay at home and take a rest.
Sample letter:
Date:
To:
[TEXT]
Subject: Excuse letter due to periods
Respected sir,
Please consider this letter as a formal notification from my side as I will not be available tomorrow 26th April 20XX due to periods. I have severe pain in my pelvic region due to which, I am unable to perform my duties regularly. I have asked one of my colleagues [Ms. NAME] to share meeting minutes with me later on.
Please let me know if there is anything I can do to ensure that everything runs smoothly in my absence. Thank you for allowing me to go on leave.
Regards,
Name of the employee
Signatures
_____________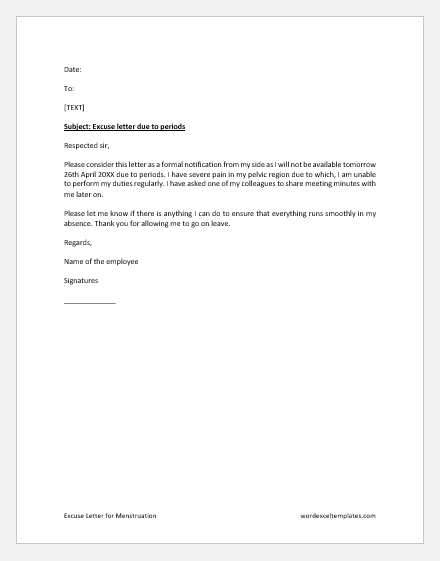 File: Word (.docx)
Size 23 KB
See also: