Companies that want to expand their services encourage their customers to send applications for a tie-up with them. Usually, companies that are at their start-up phase need the collaboration of other individuals or companies. It has become very common to have recruitment consultancy when organizations have to hire employees in different areas. So, whenever you want to collaborate with a company to provide your services pertaining to hiring, you will need to write a proposal.
What is a recruitment tie-up proposal?
Many companies rely on external bodies or individuals to provide their services to help them hire competent and skilled individuals to fill in the available vacancies. When you are capable of providing such services and want to target the company, you can write a recruitment tie-up proposal.
Importance of writing the proposal for collaboration:
Companies need reasonably skilled and experienced people to work for them. There are lots of individuals applying for a particular job position. Finding an appropriate candidate for this purpose is considered a big challenge.
Many such companies have no direct concern with the job applicants and they only perform the job of screening the candidates, conducting their tests, checking the authenticity of their documents that have made them qualify for the job, and much more. When a company decides to work with such companies, it saves itself from the hassle of filtering out the right individual from the pool of applicants.
Things to add to the recruitment tie-up proposal letter:
You should know that you have to stand out so that the recipient can feel that your offer is better than many other offers. For this purpose, you should do the following things:
Do the research:
Before you target any company and propose your offer, you should take some time and research to know what kind of staffing services the targeted company needs and how it wants them to be performed. After the research, you will be able to tailor your proposal letter to the needs of the recipient. As a result, the chances for your offer to get approved increase.
Give your introduction:
You should know how to give your introduction since telling that you run a recruitment company will not be enough. Your letter should describe what you are going to do for your clients in tie-up recruitment and what potential your company possesses.
Enlist the services:
You have understood what kind of services your client needs. So, now mention those services to prove that you are the right fit to be chosen as a part of the collaborative hiring process.
Give a call to action:
If you believe that your letter is going to impact the reader, you can boost the impact by mentioning the call to action that will indicate in the letter what you want the reader to do.
Read the sample letter given below to write an effective piece of writing.
Sample letter of hiring tie-up proposal:
Subject: Proposal for recruitment tie-up
Dear Sir/Madam,
ABC Company is a well-known company in the industry for providing its exceptional staffing services. We have been providing the services of staffing for more than 10 years. People who have collaborated with us have always been content and satisfied with our services. We are interested to have tie-up recruitment with you.
We would like to provide the services:
Conducting a thorough screening of the candidate
Background verification
Talent development
Hiring according to the payroll offered by your company
Communicating rules and regulations of your company
Providing consultancy services
We have a team of experts who are adept at judging people based on their aptitude and adroitness. We charge 1000$ for every recruitment procedure whether you carry it out annually or twice a year. We also offer discounts if you hire us for the recruitment of one individual. We believe that you will find this offer to be feasible and contact us for additional information.
Regards,
Name of the sender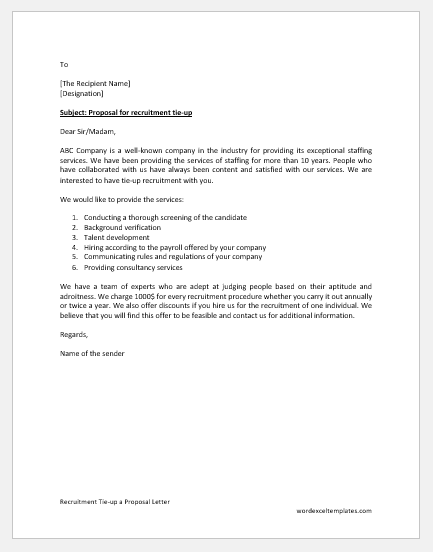 File: Word (.docx) 2007+ and iPad
Size 23 KB
See also: