We all know how important it is for us to have hold of equipment. No matter what kind of business we are doing, we need equipment for smooth operation. A person can write this letter to his boss when he wants him to provide him with the necessary equipment.
What is an equipment request letter?
It is a kind of a letter that is written when there is a need to apply for equipment. In this letter, the sender makes a formal request. There are lots of things to be taken into consideration while writing an equipment request letter.
You can read some guidelines to write an effective request letter for equipment and tools.
Tips for writing equipment request letter:
Your employer must know who is requesting the tools. So, give your introduction in the letter and tell the name of the department to which you belong. In the same part of the letter, mention your designation also. This will also let the employer know if the inventory you are asking for is relevant to you.
Before you write this request letter, you need to make sure if you are asking the right person for equipment. It should be kept in mind that you cannot always ask for the tools you need. There are some scenarios in which you can ask for them. For example, if your boss has allowed you to request equipment, you can write this letter. Furthermore, you can also write this letter when you want to ask your client to invest in the necessary tools to get a particular job done.
Consider the tone of the letter. Request letters have a different tone usually and they need to be written in a rather convincing tone so that you bring the reader around to accept your request.
Writing a tool request letter is a skill because you are required to make a formal request, specify the reason for the request and then keep the letter short and brief. It is up to you that you explain everything so briefly and yet comprehensively.
Read the policy of the company about granting equipment before you make a request. Some companies give a conditional grant of the inventory. You should read those conditions to know that what you are required to do to be able to ask for the inventory.
How to write the request letter for equipment?
Below are some tips that can be followed for writing a professional-looking request letter:
Start with your introduction:
When you ask the employer for equipment, you should tell him who you are. An introduction is a must while asking for tools. Whether you need equipment permanently for your office or temporarily, always start with introducing yourself. Tell your name, your designation in the company, the department to which you belong, and much more information that the reader needs to identify you.
Make the request:
After providing all your details, you can now ask for equipment. Here you can ask the employer to provide you with the tools that you need for working smoothly.
Tell why you need:
After reading the request letter, the reader might want to know why you need the equipment. So, you should give reasons for asking for tools. However, when you ask for the equipment purpose of which is obvious, you don't need to give reasons. For example, if the printer in your office needs to get a changed cartridge, you can simply ask the employer to send a cartridge instead of providing the reason as the purpose is obvious.
Specify the quantity:
Sometimes, you have to ask for the equipment that you need in bulk. In that case, it would be required that you mention the quantity. Your tool request letter should be in accordance with the situation.
Provide a list of items:
If you need a number of items as equipment, then you can enlist them one by one in the letter. This will make it clear to the reader what you are requesting. 
Say thanks in advance:
End this letter by showing gratitude towards the employer.
Sample Templates
1-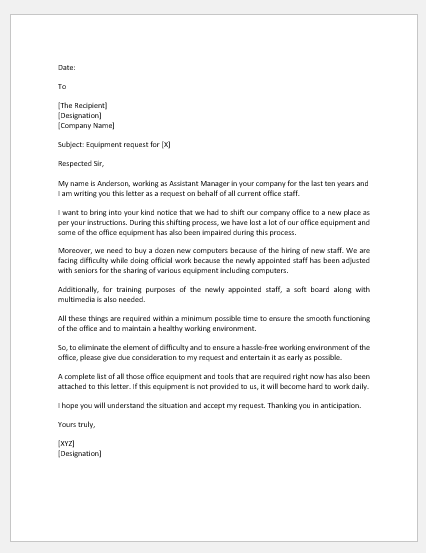 File: Word (.docx) 2007+ and iPad
Size 19 Kb
Download
---
2-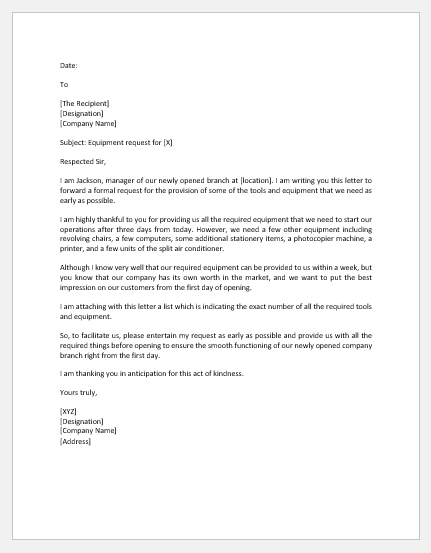 File: Word (.docx) 2007+ and iPad
Size 18 Kb
Download
---