In any organization, the most precious asset is the equipment. It is very important for an organization to take care of equipment properly so that the maintenance schedule can be streamlined.
What is equipment maintenance log?
Equipment maintenance log is a sheet in which a user can easily input the details regarding the equipment of the store such as name, serial number, price, the date on which each item was brought and a lot more.
The maintenance of the equipment is given so much importance because it can ensure that the equipment can work properly for a longer period. In this way, a business can save its cost.
With the use of equipment log, one can easily keep maintenance activity for prolonging the life span of the equipment. The examination to check the condition of the equipment can also be conducted through this log. The status of the items in the maintenance log is checked to ensure that everything is working properly. Whenever there is a need to bring new equipment, the equipment maintenance log is consulted.
Regular maintenance is important for keeping all types of equipment in a good condition. An equipment maintenance log helps in keeping a record for this procedure. This record, in turn, holds significance for various organizations where different types of apparatus, appliances or articles are used. These include factories, science research labs, and workshops among many others.
This log can be created as a Microsoft Excel sheet on your computer. Alternatively, a template can be used which saves time and effort.
The contents of an equipment maintenance log can differ for various organizations. Generally, it includes rows and columns to enter different types of information. This information may include maintenance description, date of last servicing, the date planned for the next maintenance and remarks.
A separate log is usually maintained for each piece of equipment. This helps in keeping a record for every item of machinery or apparatus in use. It is necessary for keeping the entire equipment in a good working condition. In addition, it is also important for complying with safety regulations.
In order to create a maintenance log for a particular piece of equipment, begin with some general information about it. This includes the name of the equipment, its serial number, label and date of purchase. In addition, the manufacturer's details should also be included. For instance, the name of the manufacturer and contact details can be important. The manufacturer may be contacted for services or in case of any issues.
A pre-formatted equipment maintenance log is available on this website. This template offers a general pattern. It can be modified easily. Therefore, organizations can customize it according to their particular needs. There can be a large number of pieces of machinery or apparatus at a place.
Designing a customized log for each and every piece from scratch can consume lots of time. Therefore, it is preferable to use a template instead. The same format and contents can be used for each piece of equipment. On the other hand, it can also be personalized for different types of pieces. Overall, this equipment maintenance log template can prove to be very useful.
Preview and Details of Template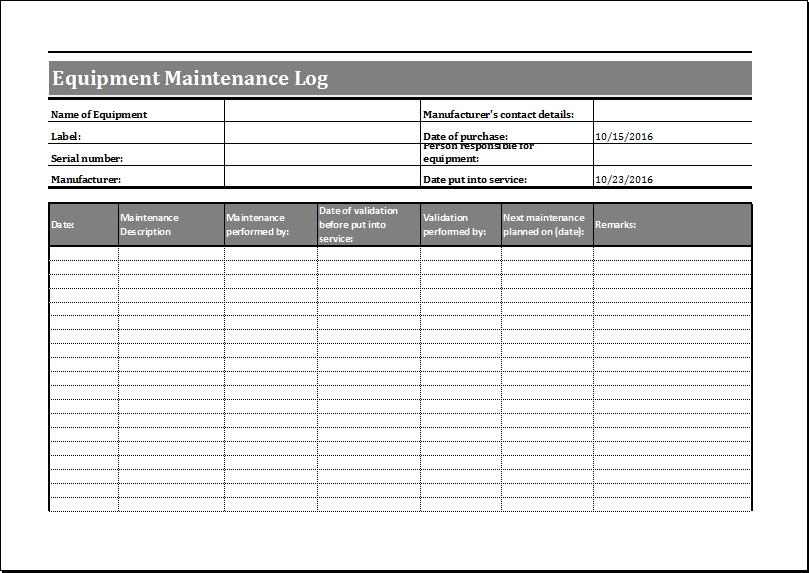 File:Excel (.xls) 2007+ and iPad Size 28 Kb | Download

File: OpenOffice (.ods) Spreadsheet [Calc] Size 17 Kb | Download

License: ENERGY (Personal use only)
(Distribution) by Kate Elizabeth(CEO)
---
What are the main components of the equipment maintenance log?
Using the equipment maintenance log is very simple. All you need to do is input the names of all the items present in the equipment. The main details added to the log are:
Name of each equipment
Serial number
Name of the manufacturer
Date of manufacturing
Contact details of the manufacturer
Name of the person responsible for maintenance
Why is equipment maintenance log template useful?
People wanting to save their time often make use of readymade and easy to use maintenance log template. This log is highly productive to use since it contains all those fields filling which can enable the user to keep track of maintenance details.
The template is very easy-to-use and person with any expertise level can use the log. One of the key features of this template is that the user can maintain multiple logs at a time that increases the productivity of the company.