Tools and machines are an important asset for various business organizations. These are used for different projects. A company may be running numerous projects simultaneously at different sites. The manager for each project is in charge of the tools and equipment being used. Any damage or loss needs to be reported.
A tool inventory is maintained by such companies. It stocks all the equipment required for projects. An inventory sheet helps in maintaining a record of this stock. All the items are numbered and tracked. This process is crucial for managing the inventory properly. It maintains a record for all the articles removed and replaced. The tracking duty is assigned to an inventory superintendent.
A tool inventory sheet can be maintained in several ways. The contents of the sheet depending upon the specific requirements of individual organizations. It generally serves the purpose of tracking the equipment stored in a company's warehouse. This helps in easily managing the entire inventory.
The condition of the tools can be evaluated on a regular basis. They can be fixed or serviced accordingly. The state of each piece of equipment is noted down upon removal from the inventory. Remarks are written down on the inventory sheet. It is checked again upon being brought back to the store. This process ensures that the entire equipment is returned intact. Any damages incurred on the site can be reported to the authorities.
Another important use of the inventory sheet is that it helps in locating particular articles. This is specifically useful in the case of large warehouses. Each item in the list is numbered. The rows of shelves for which these articles are stored on are also numbered. Therefore, equipment can be easily located whenever it is required.
More sophisticated means are available nowadays for tool inventory management. This task can be accomplished with the aid of software programs. A computerized tool inventory sheet can be created along with a backup copy. Tracking facility is also available. On the other hand, several websites offer templates for creating this record. These templates are pre-formatted with a user-friendly layout. Simply download and customize before use.
Preview and Details of Template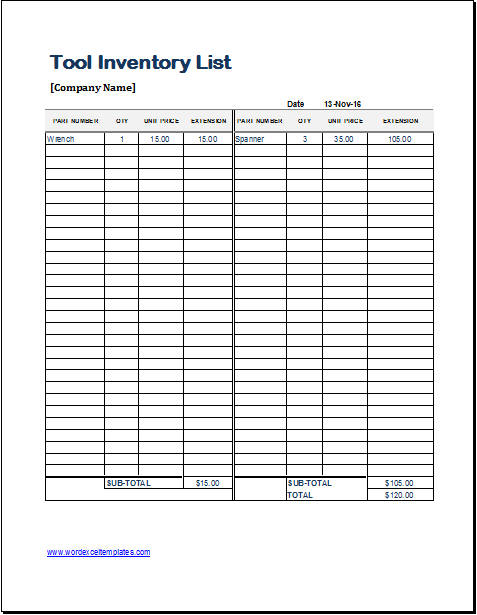 File:Excel (.xls) 2007+ and iPad
Size 32 Kb   |  Download
File: OpenOffice (.ods) Spreadsheet [Calc]
Size 16 Kb   |  Download
License: ENERGY   (Personal Use Only)
(Not for resale and distribution) by Kate Elizabeth(CEO)