Lost and found is a term which describes a section at an organization where lost items can be recovered. Such sections are commonly maintained at hotels, airports, shopping malls and other popular public spots. People are more likely to misplace their belongings at such places.
Lost property is defined as any item left unattended or apparently abandoned. It may have been misplaced or forgotten by someone. Such an item can be anything including luggage, cash, official documents or an identification card. It may be of high value, such as jewelry, or something insignificant. When a lost item is discovered by an honest individual, it is taken to the lost and found section. There, the in-charge officer collects the item and records it in a lost and found log.
People looking for their lost belongings can claim their stuff through this lost and found section. If it has not been recovered yet, a name and contact information can be left with the in-charge officer. He/she can then contact the concerned individuals upon recovery. This is a very well-organized system. The key role in this system is played by the lost and found log. It registers and records important information regarding the lost items, recoveries as well as claims.
Various organizations have developed their own policies regarding the lost and found property. These policies help in laying down important rules and regulations. In this way, a well-managed system is established. It ensures that all the lost and found items are accounted for. In addition, it also helps in returning the recovered articles to their rightful owners. Another important point in the policy releases an organization from taking responsibility for a lost item. It may have been recovered in a damaged condition. The state of such articles can be recorded in the log upon recovery. However, a lost and found office cannot be held accountable for such damages.
A lost and found log can be created with the help of an online template. It can be customized according to specific policies and rules of an organization. It is easy to download and print for use.
Preview and Details of Template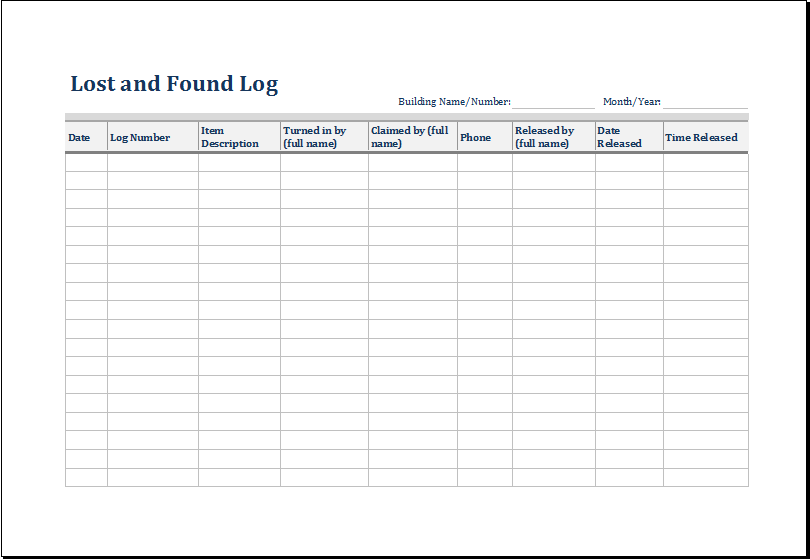 File:Excel (.xls) 2007+ and iPad
Size 29 Kb   |  Download
File: OpenOffice (.ods) Spreadsheet [Calc]
Size 22 Kb   |  Download
License: ENERGY   (Personal Use Only)
(Not for resale and distribution) by Kate Elizabeth(CEO)