Employees in any organisation are the super power of that organisation. They work hard to accomplish the tasks assigned to them and make their organisation stand out. In turn, the companies also provide many benefit packages to their employees in order to increase their satisfaction level.
Higher the satisfaction level better will be the performance of employees. One of the biggest benefits an organisation can provide to its employees is the sickness leave.
Every human being faces health problems. Due to extremely hard work, come employees get sick and then they request for the sickness holidays. The sickness holiday is granted by the company when the employee proves his illness by submitting a medical certificate to the company.
During the job, the employee has to request for sick leave. This off time is sometimes taken in advance before going to a doctor's visit. The sickness requested by the employee is scheduled in the business in order to ensure that there are plenty of people working even if some of the employees are granted the leave.
When there are hundreds of employees working in an organization, it becomes difficult for the employer to manage the sickness holidays. Such employers use employee sickness holiday schedule template for getting everything done in a better way.
What is sickness holiday schedule template?
It is a document which is used to keep track of the holidays taken by the employee on the basis of sickness. Every employee has a right to take a specific number of sickness leaves each year. These leaves are scheduled in order to check if the employee has taken the allowed leaves.
Some companies also deduct the salary of the employee if he takes more leaves than the specified number. Therefore, the use of sickness holiday schedule becomes essential.
The sickness holiday schedule template is available on this website in printable and downloadable form. The user can download it if he wants to prevent himself from the hassle that he might face during creating the holiday schedule from scratch. The template is very useful and hence increases the productivity of the company's manager.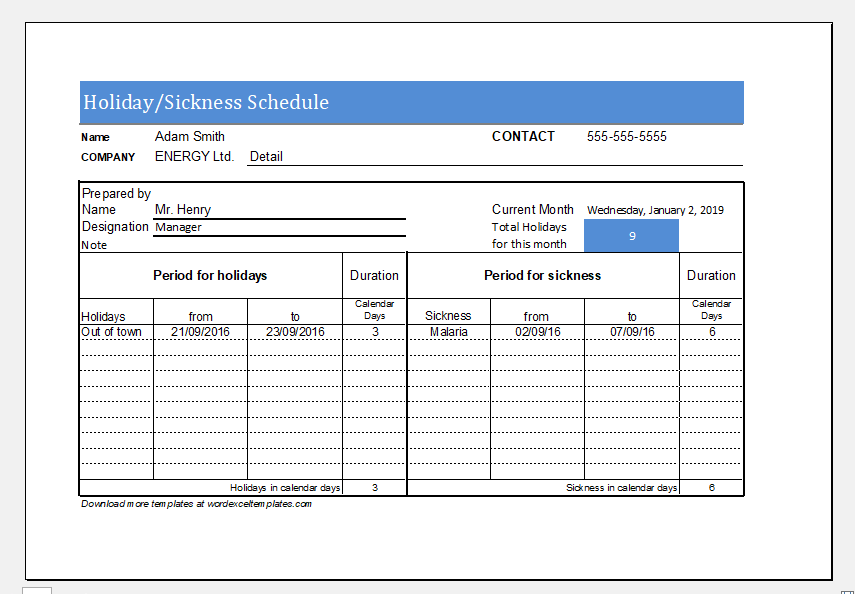 Format: Excel [.xls] | File Size: 24 KB