A disciplinary action letter for negligence is a letter that is written by an employer and is addressed to the employee who has been reported to be involved in any sort of negligence. An employee may show negligent behavior in the workplace in different ways, such as:
Avoidance of deadlines
Ignorance of instructions
Non-compliance to the client's requirements
Non-observance of office timings and hours
Evasion of work ethics, norms, and values
Inattention in completion of work and tasks, etc.
An employee's negligence is not something that a company can ignore. One, because it costs the company in terms of money, effectiveness, and efficiency, and secondly if one employee's negligent behavior is ignored, the other employees would follow the suit.
Therefore, if an employee consistently shows any type of negligence, the company sets up a disciplinary committee that, after a thorough investigation, takes up a decision regarding the disciplinary action. The employee is formally informed about this decision through a disciplinary action letter for negligence.
An organization may design its own document or edit a readymade template for such letters. Depending on the severity of the situation, decision, and company requirements, the information added in the letter may vary from company to company or situation to situation. However, the general template of a disciplinary action letter for negligence includes the following details:
Date
Details of the employer
Details of the employee
The issue of negligence
Any specific incident/s
Reference to the company policies regarding negligence
The chosen disciplinary action with its date and duration of effectiveness
Consequences in the case of repetition
Indicate hope of improvement.
Allure by offering some reward for improved behavior, if possible
Salutation and signature
A disciplinary action or disciplinary action letter is a huge thing for an employee, as it impacts his reputation, evaluation, chances of promotion, and records. Therefore, the employees try to improve their behavior after the warning letters, which are usually issued prior to a disciplinary action letter, so that they can save themselves from a bad reputation or any other sort of punishment.
However, the employees who remain negligent even after the official warnings cannot escape the disciplinary action letter, which may affect their employee records throughout their careers.
Sample Disciplinary Action Letter for Negligence
Date
Name
Address
Dear Ms. Mary,
I am writing this letter to inform you about the disciplinary action that will be taken against you for your constant negligence in various official tasks and work. It will be effective from 1st April 20XX.
We have received many complaints from your manager that you do not properly follow the work essentials, such as office timings, deadlines, client's requirements, etc. Being an employee of ABC, you are well-aware of our policies and priorities. We value our employees the most, yet do not spare negligence.
As per the company policy, after issuing you three warnings, a disciplinary committee was set up. After considering all the factors, it has decided to take action against you. A 7% deduction in your salary will be implemented for a period of one year. However, if the negligence and unprofessionalism would continue, you be terminated immediately. On the contrary, in the case of your mature and serious attitude, after investigation, this deduction would be withdrawn.
You should take this disciplinary action as a correction measure, and not as a punishment. We hope to see your improved behavior in the future.
For any queries or issues, contact at [X].
Regards,
Ross Wilson.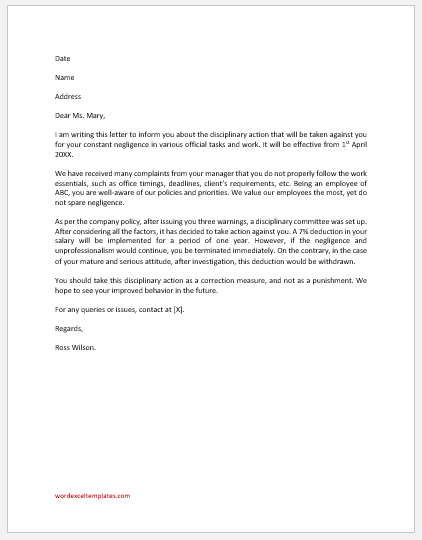 File: Word (.docx) 2007+ and iPad
Size 19 Kb
Download
---