A disciplinary action letter for misconduct is a letter that is issued by an employer, in which he addresses the employee and informs about the disciplinary action that has been taken or will be taken against him for being involved in misconduct.
This letter is different from a warning letter, where the latter is issued before any action is taken, the disciplinary action letter is more like a notification letter, which is written to notify the employee about the disciplinary action against him. In addition, this letter is usually followed by a series of warning letters, which means if the misconduct on the part of the employee has not changed even after receiving warning letters, a disciplinary committee decides about a strict action and sends a disciplinary action letter to the employee.
An employee may show various types of unacceptable behavior or misconduct in the workplace, such as:
Disrespect toward colleagues
Disrespect toward boss
Misbehavior with the customers
Non-compliance with the rules or instructions
Breaking company norms, etc.
Any sort of misconduct is not tolerable to a company. This is because proper decorum and discipline can only be maintained through good behavior and attitude, which is why companies often have to take corrective actions to improve the overall environment. One of such actions is a disciplinary action against or punishment for the employee, which is notified through a disciplinary action letter.
Depending on the severity of the issue as well as the company requirements, the details included in the letter may vary from letter to letter or organization to organization. However, the general template, which may be an edited version or company designed, includes the following information:
Date
Details of the employer
Details of the employee
The issue of misconduct
Reference to any particular incident
Effects on the company
The details of disciplinary action, including the date/s of its effect.
Consequences of repetition
Show hope of improvement
Any attached documents
Salutation and signature
Disciplinary action is a big thing, and if such an action is taken against any employee, its effects on the employee's reputation are often consequential. As this letter is kept in the company records, it means that the letter can be used as a reference in the future as well, and it is not a one-time thing only.
Sample Letter
Date
Name
Address
Dear Mr. Will,
I am writing this letter to inform you about the disciplinary action that has been decided by the disciplinary committee to be taken against you for exhibiting misconduct on 11th February 20XX.
During our meeting with ABC, your attitude towards the client was condescending. The continuous rejection of the client's questions and derision of their comments were intolerable even for our own team. ABC got offended and has canceled their project with us.
The disciplinary committee, constituted after this misconduct of yours, has decided that you will be suspended for a month without salary. This suspension will start from 1st March 20XX and end on 31st March 20XX. Additionally, it has also been decided that if any sort of misconduct will be exhibited in the future, you will be terminated immediately.
We hope that you will avoid making such mistakes again and try to maintain the discipline and decorum of our company.
For any questions or queries, you can contact me at [X]. The minutes of the final meeting of the disciplinary committee is also attached with this letter.
Regards,
Sarah Will.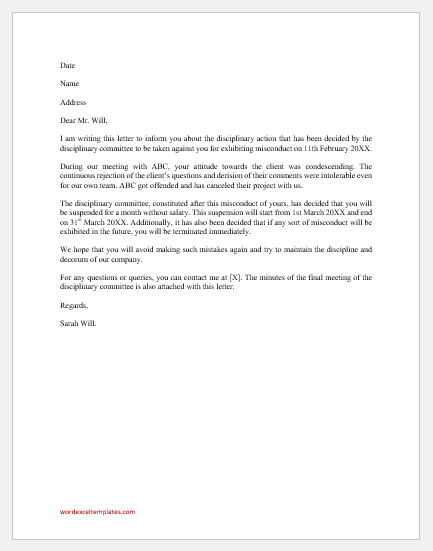 File: Word (.docx) 2007+ and iPad
Size 21 Kb
Download
---